Water parks in Hurghada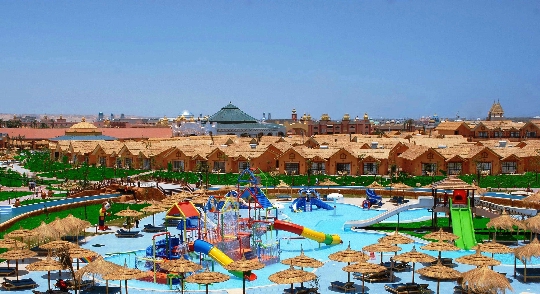 Arriving in Hurghada, there are hardly any travelers who will be disappointed with water activities - local water parks delight guests not only with exciting rides, but also with cheerful animation..
Water parks in Hurghada

Aquapark "Jungle aqua park": he invites visitors to relax on sun loungers, "to experience" 35 slides (zigzags, boomerangs, slides for descending on a giant cheesecake), swim in the pools (there are pools with artificial waves). The cost of the visit is $ 30 (the amount includes the cost of a cola, pizza or hot dog), and you will have to pay another $ 3 for using the luggage room.
Aquapark "Titanic": among the children's attractions stand out "Elephant", "Octopus", "Dolphin", "Clown", "Penguin", and from adults - "Free fall" and "Flying boats". In addition, a slide designed for rafting deserves attention, slides "Carpet plane", "Zigzag" and "Tsunami", pools with whirlpool and waves. Entrance fee: $ 20 - adults, $ 10 - children (6-12 years old), and 0-6 year old children can frolic here for free.
Aquapark "Sindbad": adults will love "Boomerango", "Aqua tube" and "Pool slider", and children - "Play pond" and "Toods pool". Those who wish here can play ping-pong or darts, join a group engaged in Arabic dances or water aerobics. Well, in the evening, guests will be waited by incendiary discos and colorful show programs. The cost of the visit is $ 20 (the price includes lunch, organized according to the principle "Buffet").
Water parks can also be found at hotels such as "Golden five", "Grand Plaza Resort", "Albatros Palace Resort", "Reemyvera Family Club Aquapark", "Panorama Bungalows Resort Hurghada".
Water activities in Hurghada
Of the water activities, diving deserves attention: after diving in Giftun Saghir, you can meet stone fish, scorpion fish, Napoleon fish, giant moray eels. And you can meet moray eels, squid, emperor fish, bluefin tuna and barracuda by diving under the water at the Abu Ramada South reef. Another interesting place for diving is Saab Sabina reef: here sea turtles, coral canyons, unicorn fish, large rays will appear in front of divers.
And for a beach holiday, it is best to head to the beach. "Dream Beach" - it has a convenient descent into the water, sun loungers, a playground with slides and trampolines. If you wish, here you can play volleyball, take part in animation programs, dive into the water from special pontoons.
Other beaches that deserve the attention of vacationers - "Papa's Beach","Paradise Beach", "Old vic" (you cannot bring food and drinks here, but there is a bar and grill), "Elysees dream".
Photos