What to do in Taba?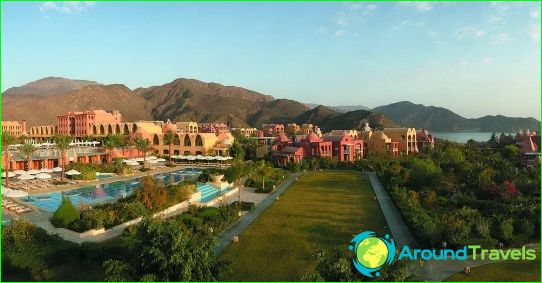 Taba is luxury hotels and beaches, clear waters of the Gulf of Aqaba, lagoons, grottoes, pristine coral reefs, unforgettable diving.
What to do in Taba?
Visit the Lost Land (during the excursion you will see canyons formed during the Neolithic period, tunnels, caves, rock paintings);
Go on an excursion to Mount Moses and the Colored Canyon (from Taba it is closer to get here than from Sharm el-Sheikh);
Go on a canoe or yacht trip;
Fishing on the high seas, taking pictures with prey and taking the catch to the hotel to prepare delicious meals and taste them;
Go on a quad bike safari in the desert in Taba;
Play golf (Taba Heights has 18 golf courses).
What to do in Taba?
Beach lovers will be delighted - Taba's beaches are famous for their fine yellow sand mixed with pebbles and clean seabed. And despite the fact that corals grow in close proximity to the coast, you can enter the water without fear. The only thing that should not be neglected is rubber slippers..
Divers should visit Pharaonic Island - there is a picturesque fortress, Fjord Bay, 3 diving centers, where you can get a PADI certificate. Sound and light shows are held every evening on the island, so lovers of a fun nightlife should also come here..
Before you take your children with you on vacation to Taboo, you should be very careful when choosing a hotel - not all of them offer sandy areas to their little guests. Active kids will love to swim in the sea and chase fish, and calm kids will like to swim in the pool and walk around the hotel with their parents.
You can come to rest in Tabu as part of a fitness tour. You will have the opportunity to organize morning exercises, play volleyball, eat according to individually selected nutrition programs, ride horseback riding in the desert, visit SPA-salons (at your service - baths with healing water, various types of massage, sauna, seaweed wraps).
Active tourists can go on an excursion to the Ras Mohamed nature reserve on a pleasure boat - this corner is considered the most picturesque place on the entire Red Sea coast.
In memory of Taba, you can buy elegant and inexpensive silver and gold products, as well as Egyptian oils (jojoba, jasmine and rose).
The Egyptian resort of Taba is surrounded by the beautiful granite mountains of Sinai, and its coastline is indented by lagoons: a vacation here is suitable for couples and diving enthusiasts. And if you wish, you can make a pilgrimage tour to Israel or admire mysterious antiquities by going to Petra (Jordan).
Photos of where to go in Taba