Rest in Taba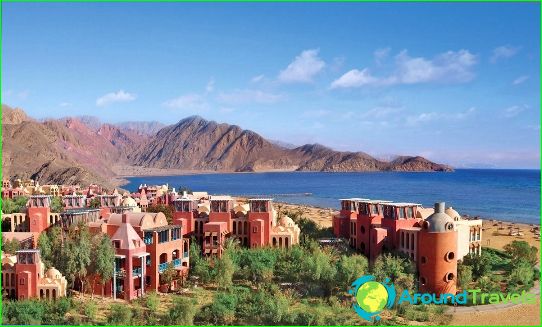 Holidays in Taba are in great demand among connoisseurs of spending time in a calm atmosphere in the bosom of nature - here you can diversify beach vacations with excursions, admire the sky strewn with stars, sit in an Arab cafe and listen to traditional music.
The main types of recreation in Taba
Beachfront: as a rule, most of Taba hotels have beaches with a smooth entry into the sea, so here you can relax with children (in addition, there are playgrounds for kids). Those interested in diving are advised to go to Pharaoh Island and Fjord Bay (local dive centers offer PADI training).
Active: those who wish can go diving (you can admire the beautiful lagoons and grottoes, and in specialized dive centers you can rent a wetsuit, scuba gear and other necessary accessories, as well as order underwater excursions to the reefs), snorkeling, yachting, windsurfing, go fishing, ride boat or jeep, play tennis, archery.
Excursion: various programs include a visit to the Colored Canyon, the Pharaohs Island (there is the Salah El-Din fortress and the museum), the Zaman castle (here you can spend the whole day - swim in the pool, admire the medieval life, try delicious dishes for dinner that will be prepared for you in a stone oven or on an open fire), Ras Mohammed Nature Reserve. In addition, while resting on the Sinai Peninsula, you will be able to take an excursion to Mount Moses and the Monastery of St. Catherine..
Prices for tours to Tabu
You can relax in Taba all year round, but the best time to travel to this Egyptian resort is May and the autumn months. It is worth noting that more expensive tours are being implemented at this time. To purchase more affordable tours, it is worth coming to Taba in winter (with the exception of holidays), when the wind season begins, and in summer (the air heats up to + 40˚ C and above).
On a note!
Since Taba is located near the border zone, you should always have your passport with you. At the resort, you should not take pictures of military objects and administrative buildings, as well as travel around the city outskirts not as part of excursion groups.
It is advisable to swim in special slippers, since corals can be very close to the shore (for vacationers going to Taba with children, it is advisable to carefully choose a hotel, because not all of them have a sandy area for swimming with babies).
Experienced travelers are advised to bring hookahs, basalt figurines, tea, jewelry, papyri, carpets, spices, coffee, oils, cosmetics and perfumes from Taba.
Photos of rest in Taba