Where to relax in the Baltics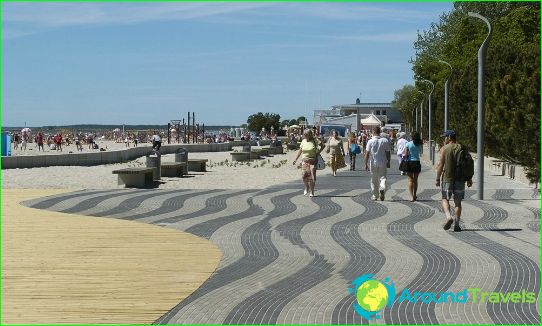 Where is the best place to relax in the Baltics? This question worries those who want to spend an unforgettable vacation in a civilized place on a clean beach without the scorching sun. Despite the harsh Baltic Sea, the swimming season lasts from late June to September. During these months, the water warms up to 21-25 degrees. Someone comes here in May, but, of course, there is no talk of bathing.
Latvia
The most popular place for a beach holiday in this country is sunny Jurmala. Jurmala's white sand beaches attract tourists from all over the world. Some of these beaches have been awarded the Blue Flag on several occasions, such as Jaunkemeri or Majori. Here you can just sunbathe in the gentle sun, and actively practice water sports. Jurmala is a resort place that never sleeps. There is a very active nightlife, a large number of restaurants, bars and discos.
If you are fans of a more measured and quiet rest, then welcome to Saulkrasti - a place that looks like a cozy village village. Beautiful sandy beaches lead to the cleanest sea, which is quite deep in this place.
Another resort in Latvia is Liepaja. It is suitable for those who like to spend their holidays visiting various museums and galleries. In summer, a large number of music festivals are held in this place..
Lithuania
For lovers of nightlife, Clapeida is suitable, where, in addition to a huge number of restaurants with national cuisine, there are also the most popular clubs and bars. Here you can also find many architectural landmarks of historical value. If there is a desire, you can visit the Curonian Spit reserve with a unique nature and cleanest ecology on a motor ship.
If you are going to have a rest with the whole family with children, then it makes sense for you to choose the village of Sventoji. There is a shallow sea and a variety of entertainment for both children and adults..
In Lithuania, the resort of Palanga is the center of health-improving recreation. There are sanatoriums with special programs, among which you can find the one that suits you. The leading role in the healing of the body is played by therapeutic mud in combination with clean coniferous air..
Estonia
If you strive for active communication on vacation, then you can combine a beach vacation with cultural leisure and go to Tallinn, where, in addition to a huge number of attractions, there are five beaches, which are very crowded during the high season..
The center of family recreation is the Pärnu resort. Here the beaches are fine sand and the depth of the sea is not so great. In addition, you can visit the children's water park.
The largest spa resorts in Estonia are Haapsalu and Saaremaa. They provide a wide range of varied treatments for the most demanding taste..
So, where is the best place to relax in the Baltics? Everyone should answer this question himself, guided by their preferences and expectations from the vacation..
Photos of rest in the Baltics