Prices in Marseille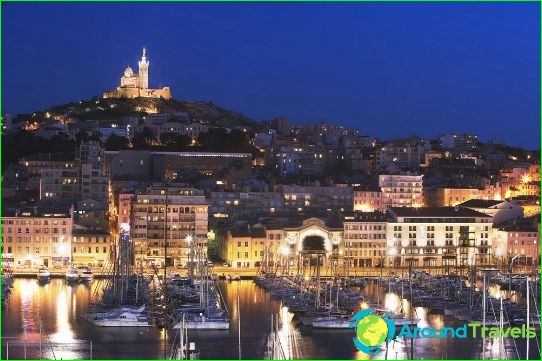 Marseille is considered the second largest city in France. The seaport in Marseille is the largest cruise terminal in Europe. More than 3 million passengers go on cruises from there every year. Consider what are the prices in Marseille for travel services.
This city is the most exotic and criminogenic of all cities in the country. There is an opinion that there are a lot of bandits living in Marseille, so it is better to avoid it. Tourists are advised to stay in one of the neighboring cities, and to come to Marseille only on short excursions. In reality, this city is very interesting, but the crime rate is really high there. If you do not visit the criminal quarters, then you can have a good rest in Marseille.
Where to rent a house
The historical center is best suited for tourist accommodation. This is the area of ​​the Old Port, where the most interesting sights, restaurants and cafes are concentrated. Tourists in Marseille are attracted by the beaches, the most famous of which are Le Catalan, Prado, Prophet and Pointe Rouge. You can rent a house in one of the hotels located near the railway station. The average room rate is 40-50 euros for two. In this case, the number will be ordinary, without luxurious details. A room in a 3 * hotel, somewhere in the city center, will cost 90-120 euros per person per day. Breakfast in Marseille hotels is paid additionally - no more than 12-15 euros per day. Rest in a room of a five-star hotel will cost 600 euros per day.
Food in Marseille
The city is a port city, so many restaurants and cafes offer seafood delicacies. They can also be purchased at the market and in stores. Popular are oysters, gilthead, tuna and fried mussels. You will have to pay about 10 euros for a dish with mussels. Elite gilthead fish is more expensive. On the market, 1 kg of first-class gilthead can be bought from 30 euros. The restaurant is worth trying Marseille soup or bouillabaisse, cheese and good wine.
Excursions in Marseille
The city provides tourists with ample opportunities for educational recreation. There are many guided tours of Marseille and nearby towns. You can use the services of a private guide or travel agency. Excursions are thematic, sightseeing and non-standard. The choice of general sightseeing tours of the city is extensive. Among them there are bus, walking, bus-walking, car excursions. The average cost of a sightseeing tour is 20-25 euros per participant. Services of a private guide are more expensive - for a group of 3-4 people about 50-250 euros. An introductory tour of Marseille lasts no more than 3 hours. A very popular excursion to the Château d'If, which appears in the novel by A. Dumas «Count of Monte Cristo». The castle lonely rises above the sea and attracts a huge number of travelers. Tour to the famous castle costs about 150 euros.
Photos