Best restaurants in Nice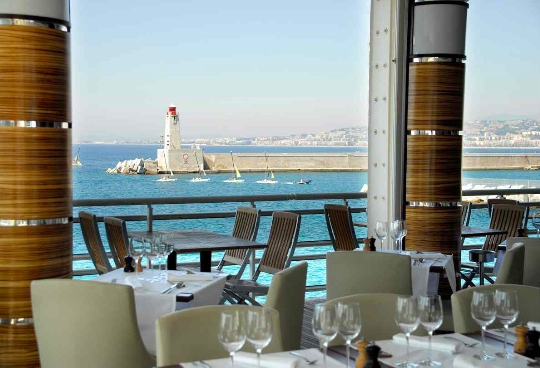 The warm Mediterranean Sea and excellent French cuisine attracts both tourists and celebrities. Resting here is not a cheap pleasure, but it is worth it. There is everything for a comfortable stay - hotels, beaches, SPA, including the best restaurants in Nice.
Breakfast at «Brasserie rotonde» - for a little money they will serve you an excellent breakfast. Elements of an old children's carousel were used to decorate the restaurant. Nice also has its own special dish. These are sokka cakes. Although they are considered street food, they still remain a favorite among the locals. In order not to eat cakes in the middle of the street, you can go to «Chez Pipo».
Gourmet restaurants

«Chantecler» - restaurant with two Michelin stars. It is famous for its interesting pre-war interior. Cuisine - classic French.
«Aphorodite» cordially invites its guests to enjoy lunch on the patio. It serves traditional dishes with only minor changes from the chef. He always tries to add something new to them..
«Don camillo creations» - a more modern restaurant, the cuisine is also national. All products of the chef are taken exclusively from local markets.
«Keis passion». One Michelin star. This establishment serves Asian dishes. What's worth trying in this restaurant is the Gorgonzolla risotto.
«Le Parcours Aphrodite». One Michelin star. An excellent view of the sea opens from here, the cuisine is French.
Italian restaurants
Italian restaurants in their variety offer visitors to enjoy the incomparable atmosphere of Italy. Pasta, cheeses, pizza, gorgeous wine and all this not just anywhere, but on the Cote d'Azur. Nice Italian restaurants: «Gagilo»; «La picola italia»; «Buba»; «Pizza coco»; «Le Local».
Japanese restaurants
Lovers of sushi and other exotic dishes will not have to worry that being in Nice, they will have nowhere to enjoy their favorite food. There are a lot of places with a Japanese menu here. For example, «King sushi» will delight you with modern Asian cuisine. You can also order delivery or take away food.
The best sushi in Nice is in «Sushi shop». Classic Japanese cuisine can be tasted at «Japonias Amada». This restaurant is very cozy, but small, so if you are going here, you should book a table in advance. Japanese restaurants such as «Eat», «Sushi saison», «Kamogawa», «Yuzu» and «Keisuke matsushima».
American restaurants
What could be more unusual than simple American food in fine France? But Nice is not an ordinary resort, and therefore one should not be surprised.
Excellent restaurant with signature cheesecake - «Bagel story». For burgers and fries you need to go to «Quick burger». Ideal for family vacations «Roadhouse».
Everything is fine in Nice. The city was simply created in order to enjoy life, and exquisite cuisine and comfortable beaches will make your vacation truly unforgettable..
Photos