Christmas in Nice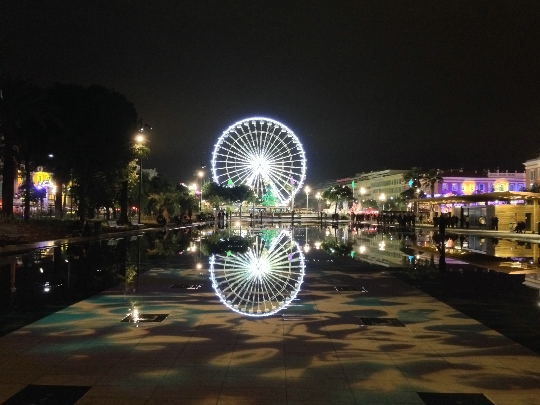 If you want to celebrate Christmas in Nice, you can attend numerous events, gift-making workshops and free performances, and admire the city sparkling with festive lights.
Features of celebrating Christmas in Nice
To create a festive atmosphere in honor of the holiday, Place Massena is decorated with unusual lighting using modern technologies that reduce energy consumption, and you can hear Christmas melodies everywhere.
It is worth noting that children receive gifts in the morning of December 25, and they know that in addition to Per-Noel, there is also a grandfather with rods (Per-Fuetar), who monitors their behavior and influences what gifts Per-Noel will give them.
Gathering at the family table, the French eat hearty: popular Christmas treats in Nice are goose liver, ham, game, oysters, soup with sage and garlic, French cheeses with green salad, Christmas log - Buoche de Noel, sweet wines and champagne. Tourists can have a Christmas dinner at the restaurant "Le chantecler" (dishes are served here in old silverware).
Entertainment and celebrations in Nice
On December 22-26, it is worth visiting Rossetti Square (for those present there will be a variety of master classes and "Living nursery" - Christmas puppet scenes to music), December 22-31 - Garibaldi Square (performances and concerts of various genres are arranged), and December 28 - Promenade du Paillon (you can admire an enchanting street performance).
December 27-30 Nice invites you to visit the Christmas rowing regatta "Christmas star" (Bay of Angels) - here you can not only watch the competitions in which deuces, fours and eights take part, but also admire the festive fireworks over the bay at the end of the event. In addition, as part of the holiday, a Christmas swim on the beach along the Promenade des Anglais can be held, in which everyone can participate, although prepared for swimming in water, the temperature of which does not exceed + 15˚ C.
Those interested in ice skating should take a closer look at the ice skating rink in Forum Jacques Medecin Park..
Christmas markets in Nice
You will find the Nice Christmas Market from 1 December to 1 January at Place Masséna, where one of the chalets set up here offers a variety of Christmas-themed handicrafts. Here you will also be able to go ice skating, inflatable attractions and a Ferris wheel, admire the work of light engineers, enjoy theatrical performances and concerts, taste local cuisine.
If you are interested in sales, then you can buy the desired items at a discount no earlier than January 9 (sales will last until February 12).
Photos