Tours to Nice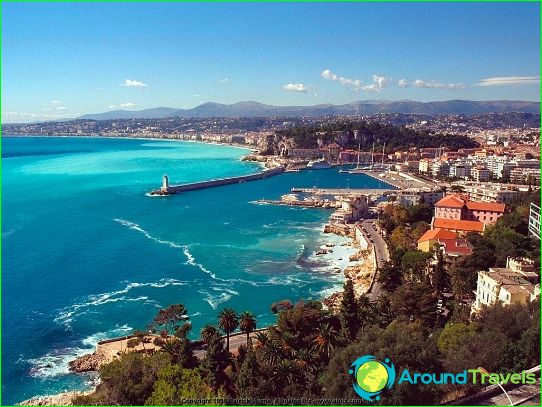 French Nice, located in the southeast of the country, is respectfully called the capital of the Côte d'Azur. Those wishing to get acquainted with the life of the French Riviera should book tours to Nice, where it is always crowded in summer, and on the promenade, called the Promenade des Anglais, you can meet movie stars, politicians, and world-class musicians..
History with geography
The French resort dates back to the 4th century BC, when the Greeks founded a city here and named it in honor of Nike, the goddess of victory. The name played its role, and Nice for many centuries staunchly defended itself from the Saracens, French kings and rulers of Provence who tried to take it into their hands. After the Napoleonic Wars, the city received a resort vocation and the warm climate began to attract foreigners here, like autumn flies for jam..
Tours to Nice have been popular with the Russian nobility since the middle of the 19th century. Fashion trends were set by the Empress Alexandra Feodorovna, who built the first mansion there. At the beginning of the twentieth century, thousands of Russian aristocrats emigrated to the Cote d'Azur, who did not want to come to terms with the revolution that had begun..
Briefly about the important

The climate in the city has all the features of the classic Mediterranean. Precipitation is typical for the autumn-winter period, while spring and summer are sunny and dry. In July, thermometer columns can reach +30, and in winter they rarely drop below +10 degrees.
Tours to Nice usually start at the Nice Côte d'Azur international airport, where direct flights from Moscow last a little less than four hours. The resort is connected with other cities of France by rail, and getting around Nice itself is convenient both by taxi and by bus. In order to make the transfers as cheap as possible, you should buy a pass for the whole day. It does not limit the number of trips.
For fans of a healthy lifestyle, the French resort offers bike rental. The prices are very pleasant, and there are no problems with parking even in the historical center of the city..
The cleanest beaches for travelers to Nice are private in the eastern part of the bay. The free municipal does not boast perfect cleanliness, but offers free use of showers.
Nice's famous Cours Salei market becomes a flea market on Mondays. Exhibited antiques pleases with variety and prices. Olive oil is one of the resort's trademarks - best bought at Alziari store.
Photos