Holidays in Nice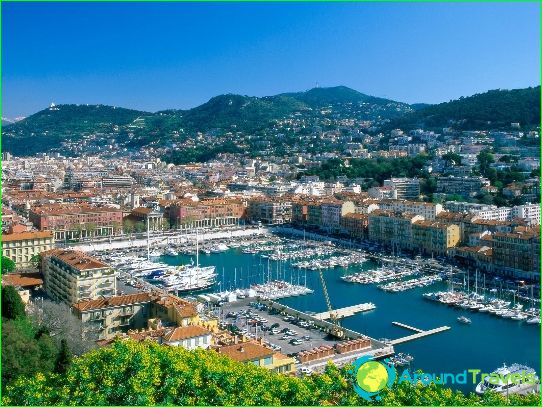 Holidays in Nice are ancient ruins, luxury villas and hotels, green gardens, Mediterranean and French cuisine, night discos.
The main activities in Nice

Beachfront: although it is not always clean on a public pebble beach, you can use the changing cabins and play beach volleyball here for free. If you decide to relax on one of the paid beaches, take a look at Opera Plage - there are rental points for beach and water sports equipment, as well as a restaurant with Russian-speaking waiters. Another excellent paid beach is Blue Beach: here you can rent everything you need, enjoy fish and seafood dishes, attend concerts and musicians' performances held every night. Those wishing to retire can go to Coco Beach - romantics who admire the sunset prefer to relax on this wild beach..
Active: Vacationers should have fun in the nightclubs "Le privilege", "La Suite Club" and "L'Ambassade", go rafting, bungee jumping or diving, paragliding or mountain biking.
Sightseeing: going on a guided tour, you will be offered to walk along Place Massena, Promenade des Anglais and the park "Floral Phoenix" (there is a garden here "Green diamond"), visit the Governor's Palace, the Cathedral of St. Nicholas the Wonderworker, the Chapel of Mercy, the Church of Jeanne D'Arch, Chateau hill, look into the Matisse Museum. Those who wish can take a sightseeing train "La vieille ville", to see all the attractions located in the historic part of Nice for an hour (it departs from the Embankment at the Garden of Albert I daily from 10:00 to 18:00).
Prices for tours to Nice
The ideal time to travel to Nice is the end of May or the end of September. The most expensive vouchers to this resort on the Cote d'Azur are sold in the summer months, reaching their peak in July-August. But if your goal is to relax not only with comfort (favorable weather), but also at more affordable prices, it is advisable to go on vacation to Nice in September-October. Another way to save money is to buy a ticket in advance (early booking will save up to 25%).
On a note!
If you plan to shop at the markets, keep in mind that they are open from early morning, and at noon, many merchants turn off trade, so it is advisable to go shopping in the morning..
If new French acquaintances invite you to visit, do not refuse the invitation (you can bring a bottle of wine or a bouquet of flowers as a gift).
When walking on the sidewalks, be very careful - motorcyclist thieves often snatch bags from the hands of passers-by.
From Nice, you should bring wine, cheese, olive oil, Provencal herbs, poppy syrup, cosmetics and perfumes, souvenirs with the image of cicadas, branded clothing.
Holiday photos in Nice