What to do in Nice?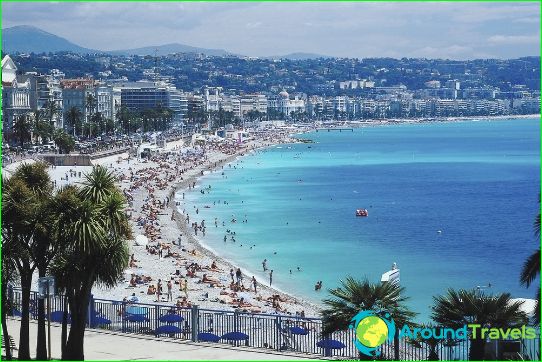 Nice is not only sun, Mediterranean Sea, beaches, gourmet cuisine, but also many cathedrals, museums, churches, palaces and parks.
What to do in Nice?

Go to the Marc Chagall Museum (here you will see the artist's works, including the stained-glass windows and mosaics created by him);
Take a walk along the Promenade des Anglais;
See the ruins of the ancient Roman settlement of Tsemenelum on the Roman Hill in Nice;
Visit the Cathedral of St. Nicholas the Wonderworker;
Walk around the famous Cours Saleya market and purchase fragrant flowers.
What to do in Nice?
You can look at medieval Nice on the Castle Hill - here you can walk in a shady park with many alleys, climb to the observation deck to admire a small waterfall and views of the surrounding area. Here you can also see the ruins of St. Mary's Cathedral and Bellanda Tower.
A lot of interesting things can be seen in the Old Town of Nice with its palaces, churches, clock towers, medieval fort, rich villas. You should definitely take a walk in the center of Nice - Place Massena. There is an unusual monument in the shape of an arc, fountains, cozy gazebos where you can hide from the bright sunlight.
Beautiful pictures can be taken against the background of the castle "Chapel of Mercy" (baroque style), the Palace of Justice, the library of Louis Nucera (it is made in the form of a square head).
Women in Nice will have the opportunity to relax in the spa "La Bulle d'Isis", which offers its guests more than 80 beauty treatments (rejuvenating, relaxing), including a body massage using a mixture of melted chocolate and cream.
Fans of dancing and fun can spend their evenings in nightclubs and discos. But if you are going to a reputable institution, you should work on the image and approach the selection of wardrobe with special care. Nightclubs worth paying attention to "L'Ambassade" (famous for its varied entertainment programs) and "Le privilege" (the design of the club is made in the form of a tropical island, where animal skins and exotic plants are used as decorations).
For shopping, head to Rue de France with its trendy boutiques and souvenir shops. And you can buy anything you want by visiting a major department store in the city - Nouvelle Galleries.
Children should be taken to the Natural History Museum - here they can look at various plants, birds, animals and insects, as well as in the Castel de Rua Park (children can ride the rides, and adults can admire exotic trees).
Nice is an excellent beach resort: despite the fact that the beaches are covered with large pebbles, the sea here, thanks to the rocky bottom, is clear and azure. If you wish, you can rent umbrellas and sun loungers. A vacation in Nice, a city surrounded by greenery with a rich cultural heritage, will leave you with the most pleasant impression..
Photos of where to go in Nice