Prices in Nice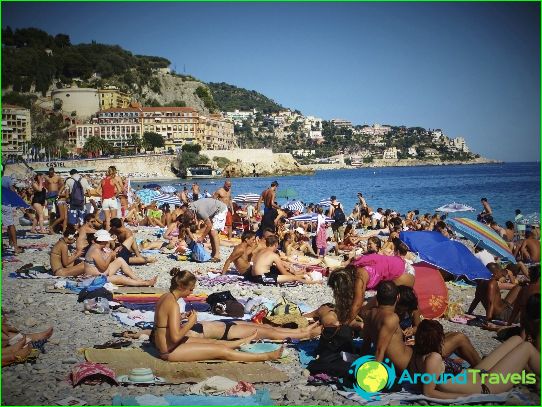 Nice is attractive in all seasons. The cultural life here is very rich. The city has wonderful museums that are of interest to tourists. Prices in Nice are high, but not higher than in Barcelona or Naples.
Rental issues
Nice is, above all, an excellent resort. Wealthy people come here to enjoy the fresh air, clean sea and beautiful sights. It is crowded here in summer, so it is better to come to explore the culture of the city at other times of the year. The best time for a relaxing holiday is the beginning of autumn, when the flow of tourists decreases. At this time, hotel room rates are lower than during the high season. The best place to stay is the Promenade des Anglais. The hotel windows overlook the picturesque coastline. This area is located near the sea, entertainment centers and attractions are located nearby.
There are excellent hotels in the central part of Nice too. There are about 30 hotels with different numbers of stars. In the center you can find any accommodation - from a luxurious suite to an economy class room. 5 * hotels offer rooms from 13,500 to 24,000 rubles per night. To save money, you should look for a room in the northern districts of Nice. A room without a shower will cost from 27 to 43 euros per day.
Food in Nice
The resort is famous for its many restaurants. They offer Italian, French, Indian, Lebanese and other cuisines.
In the old part of Nice, there is an excellent restaurant La Petite Maison, where celebrities vacationing at the resort prefer to eat. The restaurant prepares delicious fish dishes and offers an excellent wine list. Prices are high here. You can have a tasty and inexpensive lunch at the La Favola restaurant. A 13-euro buffet menu is available at the Festival de la Moule restaurant. Oysters and mussels are very popular in Nice. They are offered in restaurants, cafes and fast foods. These products are inexpensive.
Excursion programs
Tourists most often take a sightseeing tour of Nice, which costs about 24 euros. It includes a walk through the old districts of the city, a promenade along the embankment, an ascent to the castle hill and a tour of Place Massena. Excursion programs in Nice are distinguished by a cognitive and historical bias. An excursion from the city to the medieval settlement of Eze costs 50 euros per person.
Photos