Symbol of paris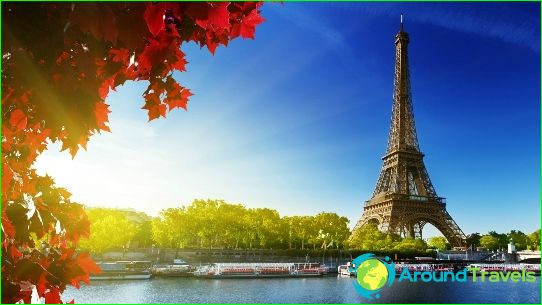 The capital of France invites tourists to walk along its boulevards, dine in Michelin-starred restaurants, indulge in fantastic shopping during the sales period ...
Eiffel Tower
As the most famous symbol of Paris, the tower is accessible to tourists, and they are delivered to the desired levels by means of an elevator. On the 1st level (height - 57 m), guests will find a restaurant, from the windows of which they will be able to admire the Parisian beauties - the Seine, quarters and palaces (in winter, the 1st level is interesting for the opening of an ice rink); for 2 (height - 115 m) - restaurant "Jules Verne" and an observation deck with glass openings in the floor; 3 (height - more than 270 m) - observation gallery. Above the viewing platform there are premises, of which the Eiffel Museum-Apartment is of the greatest interest. And at the foot of the tower, various events and concerts are often organized, which are worth attending.
Useful information: Address: Champ de Mars; website: www.toureiffelparis.ru.
Moulin rouge
Today, adult visitors are entertained with a performance "Feerie" in the form of a show with 4 main scenes (69 songs) performed by magicians, dancers, acrobats (entrance will cost 80-90 euros; taking photos inside is prohibited).
Useful information: Address: 82 BoulevarddeClichy; website: www.moulinrouge.fr
Louvre
Once the Louvre served as a royal palace, and today, being a museum (the entrance is a glass pyramid surrounded by fountains), it invites its visitors to view about 35,000 exhibits (the exposition is subdivided into categories "Sculpture", "Drawings and prints", "The Ancient East" and others). You can explore the Louvre with an excursion group or on your own (it is recommended to purchase an audio tour).
Address: Cour Napoleon; you can get there by buses No. 39, 27, 72, 68 (closed on Tuesday; link to the website: www.louvre.fr)
Notre dame cathedral
Its visitors will be able to admire the numerous stained-glass windows, visit the museum, treasury (this "repository" church utensils and works of art) and on the observation deck.
Address: 6 Place du Parvis Notre-Dame.
Triumphal Arch
Arch (its height is more than 49 m; decorated with bas-reliefs "Peace", "Taking Alexandria", "Triumph of Napoleon" and others) invites you to visit the museum (its exposition acquaints guests with the history of the construction of the structure and the ceremonies that took place there) and on the observation deck, which opens up a view of Paris and its 12 main avenues (a staircase with 284 steps leads upstairs, and using the elevator, you will have to overcome only 46 steps). In addition, when you arrive at the Arc de Triomphe by 6:30 pm, you will have a chance to see the Eternal Flame ceremony.
Address: Place Charles de Gaulle (bus number 73 goes here).
Photos