Paris observation decks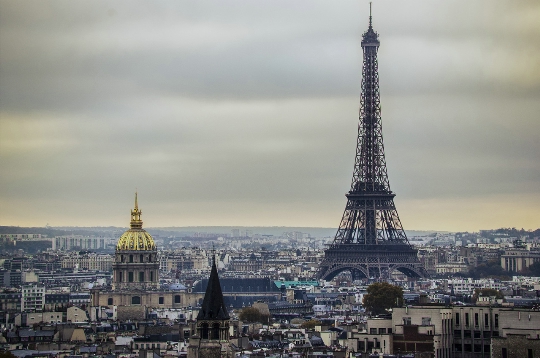 Having made an ascent to the observation decks of Paris, guests of the French capital will be able to admire Parisian streets, architectural monuments, squares and boulevards from different heights ...
Montparnasse tower
The height of this skyscraper is more than 200 m. A restaurant on the 56th floor and one of the best observation platforms in the city on the 59th floor (40 km view; depending on the season, open until 22: 30-23: 30) is open for visitors. they will open a picturesque view of Paris and its suburbs (the rise to the 56th floor is carried out by high-speed elevator in just 38 seconds). Information on prices: for adults, the ticket will cost 13 euros; ticket price for students and persons aged 16-20 years - 9.5 euros; entrance to the panoramic platform for 7-15 year old children will cost 7.5 euros.
How to get there? You need to take the metro and get to Montparnasse station (address: 33 Avenue du Maine).
Eiffel Tower
It is a structure with a height of more than 300 m, and guests are delivered to the required levels by an elevator:
Level 1 at a height of 57 meters will delight you with the presence of a gift shop, restaurant 58 Tour Eiffel, a preserved fragment of a spiral staircase, an observatory.
Level 2 at a height of 115 meters: visitors will be able to satisfy their hunger in the restaurant "Jules Verne", and also learn about the history of the tower by reading the information on special stands (the cost of lifting to 1 and 2 levels: 9 euros for adults, 7 euros for 12-14 year olds, 4.5 euros for 4-11 year olds).
Level 3 (height - more than 250 m): has a Champagne Bar, where you can drink champagne (cost of 1 glass - 10-15 euros), and an observation gallery (viewing radius - 70 km). The cost of lifting to level 3: adults - 15.5 euros, children - 11-13.5 euros.
How to get there? Tourists can use bus routes no. 82, 72, 69, 87, 42 (address: Champ de Mars).
Arch of Defense
Guests are taken upstairs in a transparent elevator - there they will find an observation deck from where they can admire the Place de la Concorde, the Tuileries Gardens, the La Defense quarter from a 110-meter height (prices - 10 euros / adults, 8 euros / children and students).
Address: 1 Parvis de la Defense.
Triumphal Arch
Visitors to this attraction (its height is about 50 m) are advised to look into the museum (its exhibits tell about the history of the arch) and climb to the observation platform (you will have to overcome more than 280 steps) to admire the Champs Elysees, Montparnasse Tower and other objects. Ticket price - 9 euros (5.5 euros / beneficiaries).
Address: Place Charles de Gaulle.
Cathedral of Notre Dame
In the south tower, guests will find a platform for viewing a part of the Cite Island, where they will be led by a spiral staircase with 400 steps (cost - 8.5 € / persons aged 25+; 5.5 € / persons aged 18-25).
Address: 6 Place du Parvis Notre-Dame.
Photos