Holidays in Baden-Baden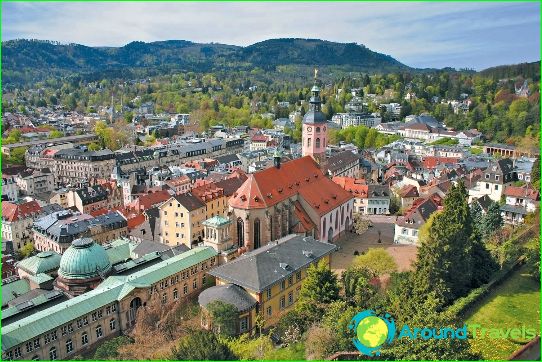 Holidays in Baden-Baden are healing thermal springs, green gardens and parks, well-groomed streets, modern hotels, tempting shopping, famous casinos.
Main activities in Baden-Baden

Curative: for treatment in local sanatoriums, water from 20 thermal springs (temperature + 58-68˚ C) is actively used for drinking, medicinal baths and inhalation. Those who wish can visit the thermal complexes of Caracalla and Friedrichsbad (indications: neuritis, circulatory disorders, gynecological diseases, arthrosis, etc.): recovery and treatment here is based on balneotherapy and thalassotherapy (Roman and Irish baths, swimming in pools with thermal water, massage using soap foam and a special brush, cold shower). And if you wish, in these complexes you can use anti-aging programs and take a course of cosmetic procedures.
Sightseeing: on excursions you can walk along the Lichtentalskaya alley, visit the Black Forest (you will have a walk through the pine forest), the Brahms house-museum, the Frieder Burda museum, the Henneranlage rose garden, see the ruins of the Old Castle, the Russian Orthodox Church of the Transfiguration of the Lord, the monument to Turgenev.
Active: the resort offers tourists to play golf and tennis on outdoor courts or in indoor halls, visit the Kurhaus (this building houses a casino, a nightclub, a restaurant, slot machines, a concert hall), visit the horse races at the local Iffezheim racetrack, spend time in the Rope Garden, have fun in the nightclub "Max's". And vacationers with children will like it in the City Library - interesting lectures are read here every day and children's parties are organized..
Prices for tours to Baden-Baden
You can have a rest in Baden-Baden all year round, but April-October is considered the preferred time for rest. Prices at the resort are not low, and they increase during the high season (May-September), as well as during festivals, for example, Wine and Musical. You can save a little by coming here in March-April, winter and October-November.
On a note!
Many shops, restaurants and hotels accept credit cards for payment, but if you need to exchange currency, it is best to do this in banks, and not in exchange offices (rates are less favorable here).
It makes sense to take a copy of your identity document with you for a walk - it will come in handy if you are checked or if you decide to pay for goods and services with a credit card.
Jewelry, Meissen porcelain, cosmetic products based on thermal water, a set of beer mugs can become memorable gifts from Baden-Baden..
Holiday photos in Baden-Baden