Shops and boutiques in Baden-Baden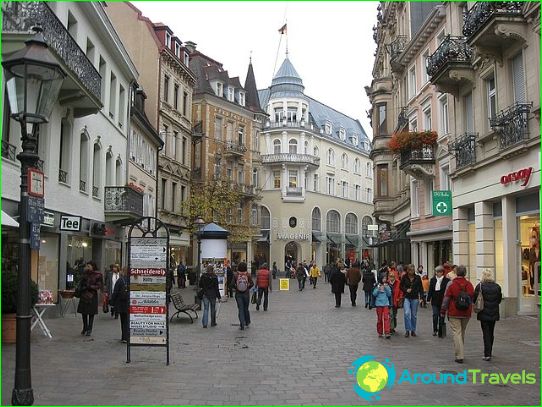 Baden-Baden is a quiet resort town, a city of millionaires, where the resting public slowly enjoys the unique mineral springs, the contemplation of the Rhine valley and the mountains bordering it. The boutiques of Baden-Baden also match the respectable guests. Mass markets and flea markets are not held in high esteem here, boutiques offer luxury goods. There are also no huge shopping centers where you can buy everything at once. Baden-Baden, in terms of shops, is a city of small boutiques.
Popular retail outlets

Langestrasse and Sophienstrasse are pedestrian shopping streets with many of the most elegant shops crowding each other. For the most part, these are representative offices of well-known brands or highly specialized stores selling, for example, medical devices or cosmetics. There are fewer multi-brand stores, but they do exist. So, the Baerbel Hausner boutique offers women's and men's collections from Prada, Fendi, Christian Dior, Fendi, Chloe.
Wagener Mode - this department store can be called almost the main trendsetter in Baden-Baden. Buyers will find clothing and accessories for men and women here. Sales assistants surround visitors with attention and care, help to choose a wardrobe. If after a few days it turned out that the clothes did not fit, there will be no problems with the exchange or refund.
The Christmas market opens at the end of November and lasts until the New Year. Near the Kurhaus building, many traditionally decorated stalls open, garlands are lit, and an angel traveling in a carriage around the city announces the opening of the festivities, cultural events from an extensive program begin. Market stalls offer souvenirs, Meissen porcelain, jewelry, all kinds of goodies and much, much more.
Photos of Baden-Baden shops