Shops and shopping centers in Berlin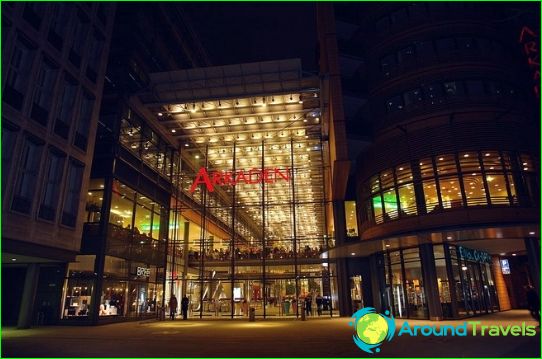 Berlin is a huge modern city and there are plenty of temptations to shop here. Tourists note that the well-known trio - choice / price / quality - in the capital of Germany is very attractive.
The choice of shops and goods can make you dizzy, so it's best to make a list of the things you'll need and plan your shopping route ahead of time. You also need to take into account that sales start from the last Mondays of July and January, and continue for two weeks..
Outlets in Berlin

Kurfürstendamm and Tauentzinstrasse are the central shopping streets of West Berlin. They are intended for purchases in the high and medium price segment. Here you will find MaxMara, Tommy Hilfiger, Chanel, Louis Vuitton, Prada and others, stores like Zara and Mango, KaDeWe, Peek & Cloppenburg, Neues, Kranzler, Eck and Wertheim department stores. Few people have a wallet that allows them to be the owner of the latest collections. The solution could be the Q 200 brand outlets with addresses Kurfürstendamm 200 and Tauentzinstrasse 9-12. This small chain claims up to 80% off on slightly outdated top quality products..
Low prices for goods can be found on Wilmersdorfer Straße. You should go here for quality everyday things. TK Maxx is a very large discount center on this street. It is advised to come to the opening while order reigns on the shelves. By lunchtime, it becomes difficult to navigate the randomly piled up things..
In the eastern part of Berlin, there is a similar Kurfürstendamm shopping street - Friedrichstrasse. Along with expensive boutiques, there are Galeries Lafayette, Quartier 205 and Quartier 206 department stores..
In the same area, on Alexanderplatz, there is Primark - a store of a new European low-cost chain. The target audience of this brand is students and teenagers. They will be especially happy with a huge selection of inexpensive cosmetics, bags, shoes, clothes of European brands. There are no branded items here, but you can dress the whole family for a penny. This is a favorite shopping place for many Germans, especially of Turkish descent, they come out of the store with huge bags Here are some prices: T-shirts for two and a half euros, jeans for eleven, lipstick for five euros.
McArthurGlen Designer Outlet Berlin is a suburban shopping center located half an hour's drive from Berlin. The outlet is planned in the form of a shopping street with cozy cafes and brand shops. If you are traveling with children, they will be looked after at the kids club «Panda». Discounts on clothes and other designer items are 30-60%.
German optics are widely known outside the country. Even if you do not have vision problems, you can choose sunglasses or specialized glasses for working with a computer to protect the eyes of drivers from the oncoming headlights. For optics, you can go, for example, to shops of the Brillenwerkstatt brand.
There are a little less than fifty flea markets in Berlin. On flea beetles, history speaks to us in the language of things. Going back half a century with German sets, dolls and eyeglass frames is a common thing. And the lucky ones will find more ancient things. The most visited art market in the Tiergarten, the market for antiques and artefacts at the Bode Museum, markets at Arkonaplatz, and Gartenstrasse.
Photos of Berlin shops