Water parks in Cologne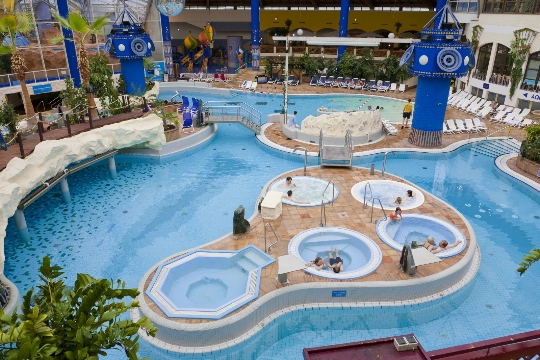 Do you and your kids like to splash in the water and experience various attractions? Welcome to the Cologne Aquapark - a place ideal for an active family time!
Water park in Cologne
Aquapark "Aqualand" pleases visitors:
water attractions "AQUAconda" (a winding blind pipe, 150 m long, which can "to experience" persons at least 10 years old), "the Red Star" (length - 110 m), "Space typhoon" (blind 90-meter pipe with light effects), "Rocket" (attraction in the form of a pneumatic slide), "Boomerang" (the attraction has a height of 4.5 m and a length of 46 m, so it will be appreciated by thrill-seekers), as well as Crazy River I and II, pools with hot and water with sea salt;
safe pools and slides for young visitors;
sunbathing area;
a sauna area (12 saunas and 2 steam rooms, among which a Russian with different temperatures, infrared, aroma sauna, a country bath with a floor covered with dry straw, a Turkish hammam; 6 jacuzzis; salt cave with a heated stone bed; Ayurvedic and exotic massages) ;
a gym (strength and cardiovascular equipment are waiting for guests);
catering establishments.
And with the onset of darkness, small and large guests "Aqualand" will be able to admire the laser spectacular shows.
The cost of tickets for children (from 7 years old) is 9 euros / 2 hours (14 euros / day). The cost of tickets for persons over 15 years old is 13 euros / 2 hours (18 euros / day). As for children under 6 years old, tickets are sold for them for 5.5 euros.
Water activities in Cologne
In order to stay in a hotel with a swimming pool upon arrival in Cologne, it makes sense to reserve a room in "Dorint Ander Messe Koln", "Leonardo Hotel Koln" or another hotel with a pool.
While vacationing in Cologne, you should go to the Phantasia Land amusement park (an adult ticket from 12 years old costs 38 euros, and a child ticket costs 18 euros) - there you can not only "to experience" many attractions, including on the water (for example, you can ride on the lake to the sound of a waltz on a boat), but also attend the performances of illusionists and incendiary dances of Africans.
Guests of Cologne are offered to go on a river trip on a motor ship along the Rhine (the start is carried out from one of the marinas), choosing one of several routes. So, if your path lies up the river, then you will sail past bridges such as the St. Severin Bridge, Deutz and South, as well as past crane houses (they are built along the river). It is worth noting that the stop will be made at the Rodenkirchen Bridge, after which the ship will turn around and head back. And if you float down the river, then on the way you will meet the Zoo Bridge and the Hohenzollern Bridge (you will be able to see them directly from the water).
Photos