Transport in Cologne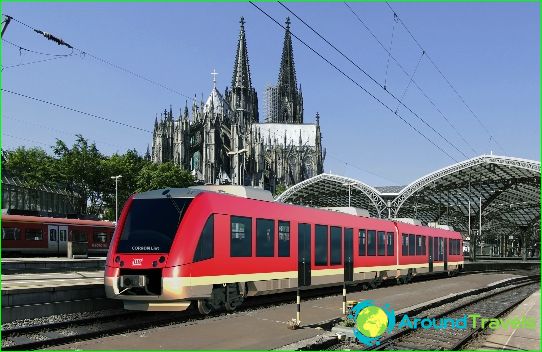 The transport system of Cologne is well developed, because it consists of more than sixty bus routes, trams, eleven metro lines. Tickets can be bought at metro stations and at any stop, at newsstands, special machines. The ticket price depends on the number of zones that will be crossed. It should be noted that Cologne is divided into nine districts, and each of them is subdivided into 5-14 districts, subdivided into quarters.
Metrotram
Transport in Cologne is unique as trams and metro are linked. The fact is that a metro line can start underground, after which it smoothly passes to the surface, and the tram stop becomes the final point. There may be another scheme, namely the tram goes into the metro. In this regard, people who live in Cologne refer to local public transport as the metro.
What features of this public transport should be noted?
In the center of the city, most of the lines run underground, and on the outskirts they can come out to the surface. The underground part resembles a regular subway, but the power supply system of the cars is implemented in a different way..
In the west of Cologne, all lines diverge to the outskirts. There is also a semi-circle in this place, which is known as route 13. In order to cross to the east bank, you must cross one of three bridges. After that, the lines diverge into five radial lines..
Two lines (routes 16, 18) go outside Cologne and head to Bonn.
Metrotram operates from 5.00 to 24.00. The interval between trains can be one to two minutes.
Buses
Bus routes connect the center and the outskirts of Cologne. At each stop, you can see an electronic board and find out the timetable, which is exactly followed by public transport. The first bus starts at 4.30, and the last one ends at about 24.00. The night routes start working immediately after that. Thus, public transport operates around the clock. Daytime buses run every twenty minutes, night buses run every hour.
Taxi
Taxi is the most popular type of transport among tourists, because this option allows you to easily get to the desired place in the city, regardless of the time of day. Please note that the night rate is valid from 22.00 to 6.00. In addition, a similar tariff is valid on weekends. If you made an order by contacting the dispatch service, the fare increases.
Photos