What to do in Dresden?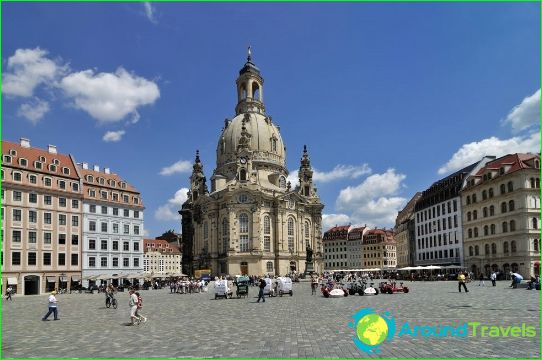 Dresden is a city in Germany, located on the banks of the Elbe River, famous for museums, galleries, palaces, baroque architecture.
What to do in Dresden?
Explore the complex of historical buildings - Zwinger, Dresden Art Gallery, Frauenkirche Church;
Ride a paddle steamer to admire the Saxon Switzerland and drive to Meissen for the famous porcelain items;
Relax in the Grosser Garten park on beautiful lakes, in the Botanical Garden and the Zoo;
Go to the Dresden State Opera;
Visit the Moritzburg castle.
What to do in Dresden?
You should definitely visit the Water Palace and the Lustgarten garden laid out in it; walk on the suspension bridge "Blue miracle", thrown across the Elbe River; admire the Cathedral, which is not only a court church, but also a necropolis and a musical center (the boys' choir sings here).
For sightseeing, you can go to the Neustadt area, where beautiful old buildings are located, such as the Japanese Palace, built in the 18th century (there are 2 museums at the palace).
The most fashionable place in Dresden is the New Town, which is located between the Elbe and the Albertplatz square: here you will see 4-5-storey buildings of the 18th century. In addition, here you can go to one of the boutiques, a gallery, a souvenir shop and a small theater..
If you like water activities, go to the centers of Carakala and Friedrichsbad, where you will find pools filled with thermal water, a sauna, a solarium.
Children should go to the Dresden Zoological Garden - there they can watch elephants, penguins, lions, snakes.
As part of a shopping tour, you can visit Prager Strasse with a large number of shops, cozy boutiques located in the side streets of the Frauenkirche, where you can buy things from famous brands (Dolce & Gabbana, Prada, CD). Pay attention to the Centrum Galerie shopping center, famous for its many shops, including a cosmetics and perfumery store, and a 2-storey store selling appliances. In memory of Dresden, you can buy wine, cheese, wood and leather products, dishes, cuckoo clocks.
On vacation in Dresden, no one will be bored: active tourists can spend time in sports centers, families with children - in water parks and entertainment centers, nightlife lovers - in nightclubs (for example, in "Dance factory" with a 3-storey dance floor and an excellent bar), women in local spa centers, gourmets in restaurants.
City Travel Dresden

Photos of where to go in Dresden