Districts of Hamburg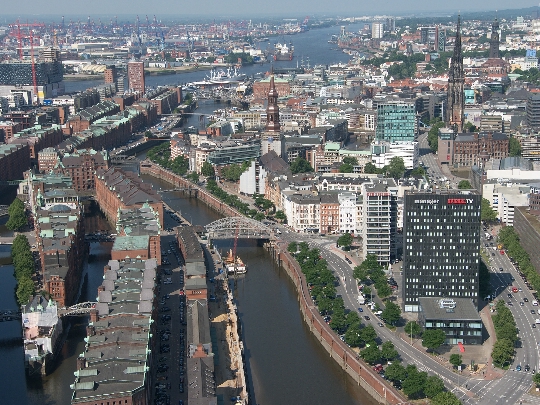 Districts of Hamburg are reflected on the city map - there are seven of them and they are subdivided into more than 100 districts. Hamburg districts include Altona, Harburg, Wandsbek, Hamburg-Mitte, Hamburg-Nord, Bergedorf, Eimsbuttel.
Description and attractions of the districts of Hamburg

Eimsbuttel: invites its guests to spend time in the Eimsbuttel park (there are walkways, cafes and playgrounds, and in the summer there is a children's pool) and Unna Park, to visit the theater "NN" (Russian-speaking actress Lotte Llakht often performs here). It is worth noting that a tour of Eimsbuttel involves visiting the Church of Christ and the Church of St. Boniface, as well as the Orthodox Church of St. Procopius of Ustyug. Well, in the evening you can go to one of the streets of the district to walk or sit in a cozy cafe.
Altona: theatergoers will be able to visit "Theater in der Basilika" and "Monsun Theater" (in this private small theater you can see the performances of Russian-speaking actors), and you can listen to jazz and rock performers in the concert hall "Fabrik". Those who wish can buy a variety of goods at affordable prices by visiting the shops on the streets of Neue Grosse Bergstrasse and Barenfelder Straße. And a shopping center can be a good choice for those who, after shopping, want to have a snack in a cafe or restaurant. "Mercado". The Altona Museum of Northern Germany should not be deprived of your attention - its permanent exhibition is devoted to fishing, shipping, history and culture. It is worth coming here with children - a special interactive section is open for them, and also visit the museum store (postcards, books and toys are sold here). To admire the port of Hamburg and the Kölbrand Bridge, and at the same time to capture this beauty in a photo, travelers are recommended to go to the observation deck of the Altona Balcony (it is located at a height of 27 meters above the Elbe).
Wandsbek: Ailbek quarter deserves attention - vacationers with children should visit the Drama Theater "Fundus Theater" (school-age children are involved in staging their own performances), who want to play chess - club "Hamburger Schachclubvon 1830" (blitz tournaments are often held here), and for fans of discos in the style of 70-80s - a restaurant "Factory Hasselbrook", disposed "beer garden" (discos are held here on the first Saturday of the month).
Where to stay for tourists
Those who like to spend their free time in green recreation areas in nature can opt for the Wandsbek area. The Hamburg-Mitte area is suitable for tourists interested in shopping centers and restaurants, theaters, including operas, pedestrian squares and walkways. Comfortable conditions for living and recreation are offered by the Bergedorf district - here travelers will find recreational areas, as well as a medieval castle surrounded by a beautiful park.
Pictures of Hamburg districts