Hamburg Zoo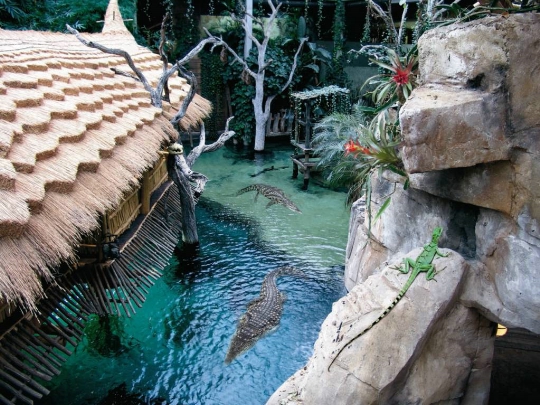 In the German city of Hamburg, the zoo is unique - it was here that for the first time in the world natural conditions were created for captive animals. Birds and animals received trees and rocks, lakes and waterfalls for use, and it became much more interesting for visitors to watch them.
The zoo in Hamburg was founded by Karl Hagenbeck, a scientist and trainer engaged in the breeding and sale of wild animals. His name appears at the entrance to an amazing corner of nature in the heart of a modern city..
ZOO Hagenbeck
Karl Hagenbeck's dream that animals will live in harmony with each other in his park has come true, and the guests of the Hamburg Zoo do not experience any problems or discomfort.
At the entrance, visitors are greeted by a magnificent aquarium with a variety of aquatic inhabitants, and the entire area of ​​the zoo is almost 25 hectares. During a walk through its territory, visitors will have to walk at least 7 km along paths and paths and get acquainted with more than two hundred species of animals and birds..
Pride and Legends
In 1976, a Pacific walrus named Antje appeared at the Hagenbeck Zoo. In 1983 he became a symbol of the German television NDR and his image graced the screens until 2001. After Antje's death, walruses purchased at the Moscow Zoo became his successors..
How to get there?
The exact address of the Hagenbeck Zoo is Lokstedter Grenzstraße 2, 22527. You can reach any vacation spot for Hamburg residents and visitors by underground, taking the U2 line towards Hagenbecks Tierpark station. In addition, there are buses of routes 22, 39, 181 and 182
Helpful information
Opening hours of the zoo in Hamburg:
Ticket offices and exposition open daily at 09.00.
From October 25 to May 2, the zoo closes at 4.30 pm.
May, June, September and October until 24, inclusive, the object is open until 18.00.
In July and August, you can visit the animals until 19.00.
On New Years and Christmas Eve, the park closes at 13.00.
Tropical aquarium, regardless of the season, is open from 09.00 to 18.00.
Ticket prices:
Admission to the zoo for adults - 20, to the Tropical Aquarium - 14, combined ticket - 30 euros.
For children from 4 to 16 years old - 15, 10 and 21 euros, respectively.
A family of two adults and two children is eligible for discounts and tickets for it will cost 60, 43 and 85 euros.
Children under 4 years old admit free of charge, and discounts are provided for groups of more than 10 people.
The ticket office stops selling tickets one hour before closing.
Photo on documents confirming age is required.
Services and contacts
There are attractions in the park where the youngest guests like to spend time, and cafes where it is pleasant to refresh yourself after long walks in the fresh air..
For more information about the activities at the Hamburg Zoo, it is best to check the official website - www.hagenbeck.de.
Phone for inquiries +49 40 530 03 30
Pictures of the Hamburg Zoo