Hamburg shops and markets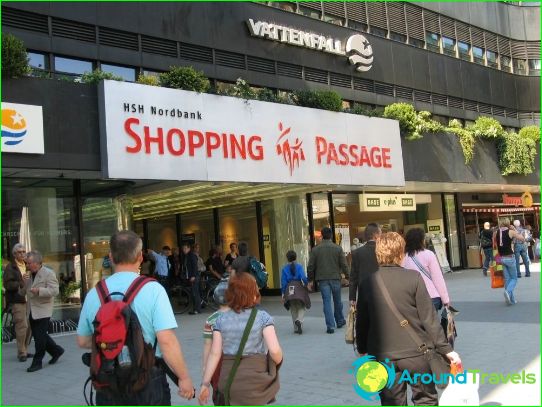 Hamburg ranks well among the top shopping cities. Connoisseurs of New York's Fifth Avenue or Oxford Street in London will not be disappointed in Hamburg. He is one of those cities where the passion for shopping makes it difficult to choose and sightseeing can fade into the background. Although, the shopping arcades of Hamburg are also a local attraction. There are more of them here than in other European cities. It seems like you are outside and the air is fresh, but it is reliably protected from bad weather.
Popular retail outlets

Neuer Wall amazes with its exquisite stores Hugo Boss, Giorgio Armani, Versace, Escada, Burberry, Hermes, Louis Vuitton. There are also expensive jewelry boutiques, shops of the finest china, decor items, business and writing utensils. By the set of boutiques, the street can be compared with the central streets of other fashionable capitals of Europe..
There are many department stores on Monckebergstrasse and its companion Spitalerstrasse: Karstadt, Horten, Kaufhof. Brinkmann is a huge store that men will like more, as it sells various technical gadgets. Who knows, maybe you can buy a pneumatic pump there, or a small concrete mixer, and then take it home? You don't have to buy, you can just spend time there while the companion tries on dresses in a nearby department store.
The Eppendorf district is also renowned for its trade. There are no snobbish boutiques here, but there are book, wine, souvenir, antique shops. Numerous taverns and cinemas will help you to take a break from the bustle of the city..
The fish market is a must-see. It is over three centuries old. As in ancient times, it opens before dark - at 5 am and works until 10 am. This early discovery is explained by tradition - before the start of the church service, you must have time to sell the goods. Fish and seafood are presented here for every taste and color. But fish is far from the entire assortment of the market. Most of it is occupied by fruits and vegetables, sausages, and other goodies. Trade is carried out both in a covered pavilion and in the open air. There is a fish restaurant on the second floor of the pavilion.
Photos of Hamburg shops