Streets of Hamburg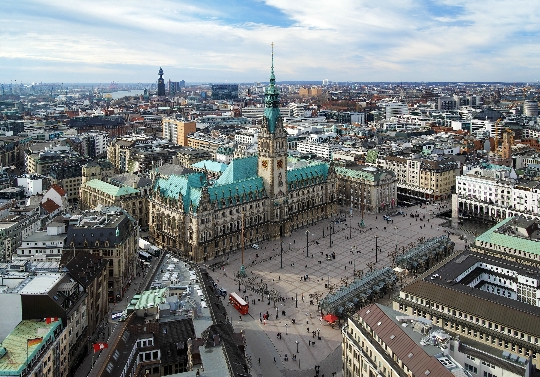 One of the most famous cities in Germany is called the German Venice, as it is a major sea and river port. Therefore, a tourist who dreams of returning to the streets of Hamburg again does not need to comb city blocks in search of a reservoir in order to flip a coin. True, there is one difficulty: the Germans themselves claim that in order for a wish to come true, a coin is thrown not into the water, but onto the top of any of the piles in the local port..
There is a reason to come back
Hamburg is one of the most beautiful and ancient cities in Germany, which has preserved its architecture and an amazing cocktail of cultures and languages. There can be many reasons for returning to the city - these are business visits, rich excursion programs, visiting famous performances and musicals, shopping.
Evening promenades through quiet city quarters or a walk along the Reeperbahn, which can give you a very thrill, will bring your portion of impressions. In Hamburg, as in any city with history, you can find the Old and New Towns. Here they are separated by the Alsterfleet channel..
The indigenous people always bring their guests to the Trost-Brücke bridge, which stretches over the canal. It is from this hydrotechnical structure that the most beautiful views of Hamburg open, in the list of attractions of which:
City Hall, consisting of 647 rooms and decorated with a baroque tower;
The exchange, which is considered the oldest in Europe;
Ruins of a medieval church dedicated to St. Nicholas, now an anti-war memorial.
These and many other monuments of German history look very beautiful during the day, but an even more impressive sight lies with tourists when night falls and the illumination is turned on..
Thrill quarter
This Hamburg street does not have a very good reputation - the name stuck with the Reeperbahn «streets of red light districts, and the Germans themselves christened it the mile of sin and vice. It is on the Reeperbahn and the streets adjacent to it that life comes to life at night. There are hundreds of restaurants, nightclubs, discos here. But they are not the main thing. «wealth», and establishments associated with the sex industry, including strip clubs, museums of the history of sex, brothels of various kinds. Women and children are not allowed to enter certain areas of the Reeperbahn.
Although, on the other hand, the Germans claim that the musical career of the famous Liverpool quartet began in local clubs, so in one of the cabarets today you can visit The Beatles Museum.
Photos of Hamburg streets