Transport in Hong Kong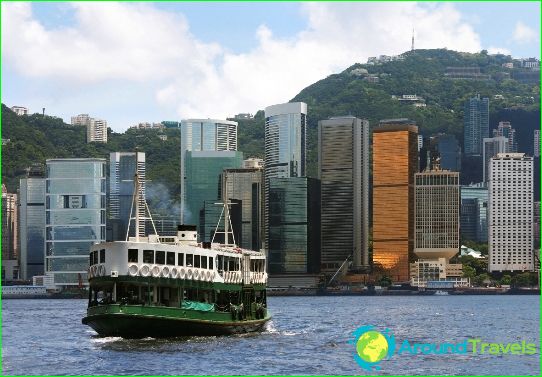 Transport in Hong Kong is famous for its diversity: travelers can travel by ferries, funiculars, subways, buses, double-decker trams ...
Major modes of transport in Hong Kong

Buses: it is worth considering that they stop only at the request of passengers - to get on the bus, you need to raise your hand, and to get out - press a special button, thereby notifying the driver. Minibuses also run in the city, but it is advisable to use them only for those who know the Cantonese dialect, since in order for the driver to stop and passengers to get out, they must loudly shout the name of their stop to him.
Metro: The Hong Kong metro has 10 lines and station entrances are marked with a symbol that resembles a Russian letter "F". At stations and on trains, you should pay attention to scrolling screens - there are station names and other useful information in Chinese and English. Everyone is given the opportunity to install a special application on their smartphones, with the help of which you can plan your route (travel time and fare will be calculated, information will appear on which station to get off or change trains).
Funiculars: You can use the rail funicular to climb Victoria Peak or the cable car to get to the giant Buddha statue.
Ferry: by boat, for example, from the Kowloon Peninsula to Hong Kong Island (the journey takes approximately 10 minutes).
Trams: Double-decker trams can be used on the tram lines between Kennedy Town and Saau Gay Vaan.
Upon arrival in Hong Kong, it is advisable to acquire a universal Octopus Card (this plastic card can be replenished at the box office or vending machine). If you wish, you can buy a tourist Day Pass (it gives you the right to unlimited travel on all types of public transport throughout the day).
Taxi
There are many taxis in Hong Kong - they come in red (city taxis that travel all over Hong Kong), blue (the cheapest one that runs around Lantau Island) and green (found in the New Territories, Disneyland and the airport). It is worth noting that the driver has the right not to take on the carriage of a passenger if he does not want to buckle up (this also applies to those sitting in the rear seats). Important: smoking in a taxi is prohibited, and in addition you may be charged for travel in tunnels and on toll highways. You should be aware that at the end of the trip, the driver must issue you a check.
Car rent
Before renting a car in Hong Kong, you need to weigh everything well: in addition to the fact that there is left-hand traffic, it is very intensive. In addition, there is a rather complex road network, and finding places (they are quite expensive) for parking is very problematic..
It is worth considering that road signs are duplicated in Chinese and English, and high fines are provided for traffic violations. Those who are not afraid of difficulties can rent a car with an international driver's license. Important: when traveling in Hong Kong, you will not be able to travel throughout China (you will need special numbers to enter).
With a well-developed transport system at its disposal, Hong Kong (there is land, water, underground transport) offers its guests to comfortably move from one area to another..
Photos