Airport in Bangalore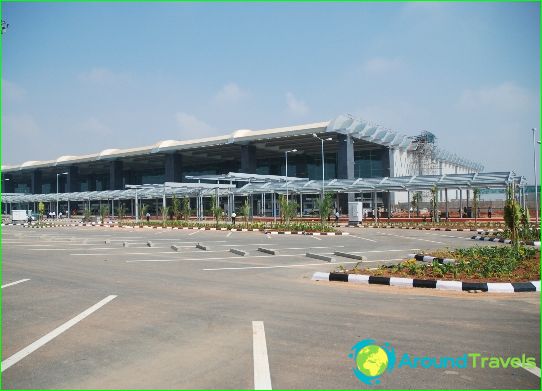 Indian airport Bangalore is located about 30 kilometers from the city of the same name, in the town of Devanahalli. The airport covers an area of ​​over 16 square kilometers. He is very young, the first flights from here began only in May 2008.
Building
The airport was planned to be built in the mid-90s, but construction began only in 2005. The opening was supposed to take place in March 2008, but the commissioning date was delayed by 2 months due to problems with air traffic organizations.
According to the initial plans, the maximum capacity was to be only 3.5 million passengers per year. However, this figure was soon revised, it was decided to provide a capacity of 12 million passengers. The plans for the entire infrastructure were also revised - passenger terminals, runways, etc..
According to the plan, the construction of the airport included the opening of its own railway station..
Infrastructure
The airport in Bangalore currently has one runway, its length is almost 5 kilometers. This runway can accommodate all types of aircraft. In the near future, it is planned to open a second runway, which will increase the airport's capacity to 18 million passengers per year..
The only terminal of the airport covers an area of ​​over 70 thousand square meters. Here you can find all the services you need on the road - cafes and restaurants, ATMs, luggage storage, Internet, etc..
The terminal has 8 bridges out of 20 boarding gates. There are also 19 remote parking lots, to which passengers are taken by bus.
The airport is also ready to offer its guests a spacious parking lot for 2,000 parking spaces..
Rest
Not far from the airport there is a five-star hotel with 321 rooms.
Transport
There are several ways to get from the airport to Bangalore. Several shuttle buses depart regularly from the terminal building to different parts of the city.
Also, the city, for a higher fee, can be reached by taxi.
Bangalore airport photos