Goa prices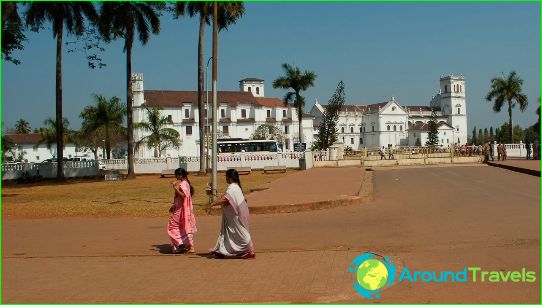 Many people think that the prices in Goa are lower than in other trendy resorts. But this statement is only true for average living prices. If we consider the average cost of services, then a vacation in Goa will be cheaper than a vacation in Bulgaria or Greece. The cost of many goods, products and services in Goa is much lower compared to Russian prices.
Tourist expenses depend on the following factors:
resting places,
hotel categories,
degree of comfort,
seasons,
number of days.
In Goa, prices do not change as quickly as in Russia. Average price growth is no more than 10% per year. The cost of many services and goods has remained stable for several years. In India, the rupee to ruble exchange rate sometimes changes very significantly, this should be taken into account by the tourist. If you are interested in a budget vacation, then you will need no more than $ 700 for 2 weeks (for 1 person). In this case, you can count on cheap accommodation. If you want a decent room with all the amenities, as well as restaurants, entertainment and souvenirs, then prepare at least $ 1,500 per person.
Main expenses in Goa:

housing,
food,
transport,
entertainment,
buying souvenirs and clothes,
connection.
Accommodation in Goa
The cost of housing is influenced by numerous factors: rental period, proximity to the beach, availability of amenities, etc. In a guesthouse (guest house), a good room costs 700-1000 rupees. You can rent a house in advance by contacting one of the sites with the possibility of booking. Using such a system, you can choose the appropriate option in any village in Goa. A double room costs 700-1400 rubles per night. You can also rent a bungalow, which will be located on the seashore. Bungalows are well ventilated but poorly soundproofed. A hut next to the sea costs between Rs 400 and 700 per night. The standard accommodation option is a hotel. A higher standard of living is guaranteed by the villas. In the coastal area, you can rent a simple villa for 10 thousand rupees per month. More luxurious houses cost 20-25 thousand rupees.
Transport
In Goa, tourists use scooters, motorcycles and cars. Renting a scooter for a day costs 250 rupees. A scooter for a month can be borrowed for 4000 rupees. A motorcycle for a day will cost 300 rupees or more, depending on the model. Car rental costs 600-1300 rupees per day.
Food
Food prices in Goa are low. If you eat in inexpensive cafes, then about 1000 rupees per day are spent on food. Fans of gourmet food incur higher costs - about 1,800 rupees per day. The amount spent on food depends on the personal preferences of the tourist.
Photos