Independent travel to Delhi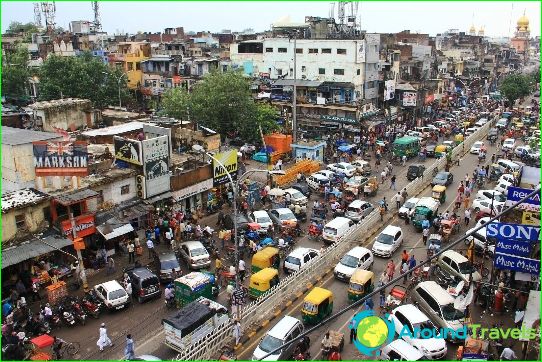 The Indian capital is a remarkable city in every respect. Such striking contrasts between luxury and poverty are hard to find elsewhere. And yet, the main impressions of Delhi are bright colors, a motley crowd of people, breathtaking smells of Indian spices, a light ringing of beauties' bracelets in saris and friendly smiles of people for whom the most important thing in life is inner harmony..
When to go to Delhi?
The hottest, wettest and most unfavorable time for travel to the capital of India is summer. Monsoons and downpours can make it difficult to appreciate all the charm of the metropolis. Fogs are frequent in winter, and temperatures can drop to almost zero. It is best to fly to Delhi in spring or autumn, when there is no sizzling heat and the weather is dry..
How to get to Delhi?
Direct flights or a flight with a connection - each traveler chooses a way to get to the country of eastern exoticism according to his taste and material possibilities. For Russians, a visa is required, which can be obtained at any travel agency in order to save time on a visit to the embassy. At the airport, take a prepaid taxi at one of the many counters, or use the air-conditioned and clean Delhi Metro to get around the city.
Housing issue
Hotels in Delhi, where you can stay without risk to health, are quite budget. At the same time, the rooms in them are large, the furniture resembles the setting from the eastern palace, and the staff, although a little lazy, is friendly and tries to help its guests in everything. The lines of expensive hotels maintain their name even in Delhi, but you should be prepared that the Indian mentality here leaves an easy imprint on the quality of service..
Argue about tastes
Delhi is also the capital of Indian cuisine, as the smells on the streets here will certainly tell about. Restaurants in Delhi are inexpensive and the quality of food preparation is in line with sanitary standards. Compliance with an important rule - wash your hands more often, drink bottled water and refuse, if possible, ice in drinks - will help to maintain vigor and a healthy stomach for the entire trip to Delhi..
Informative and fun
In the Indian capital, there are many attractions that seem to have left the pages of a book of fairy tales. It is worth visiting the Red Fort in the center and the world's tallest brick minaret, Qutub Minar, walk to Humayun's tomb and spend a few hours at the National Museum of the capital of India.
Photos of the trip to Delhi