Excursions in Delhi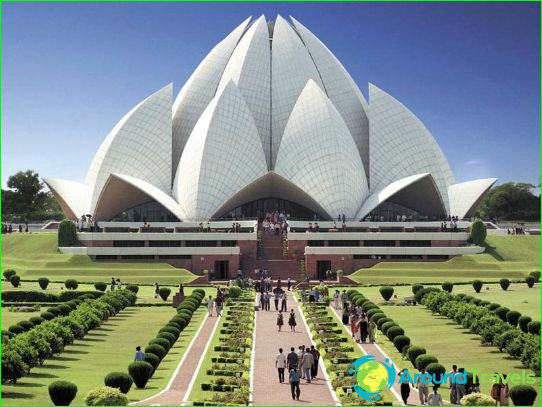 If you want to understand what is the difference between Delhi and New Delhi, you should definitely visit the Indian capital. In fact, this is one and the same city, only its historical part, called Delhi, was built for the most part in the 17th century, while «new town» built away from it, and already in 1920. However, the almost century-old history of New Delhi - the modern Indian capital - also left its mark on the general history of one of the most ancient states in the world. Therefore, it makes sense to visit two excursions in Delhi - in the old and in the new city..
Old city
Best known in «old» Delhi Red Fort. Its walls are built of red sandstone. It is an octagonal fortress surrounded by a moat dating back to the Mughal dynasty. Now there is a museum with interesting exhibits. What is the so-called «peacock» the royal throne, made of pure gold, inlaid with countless sapphires, diamonds and emeralds. Preserved here are musical instruments: cymbals, oboes. The Fort has museums of paintings, archeology and a memorial. There is also an indoor market selling souvenirs.
The most grandiose mosque in India is also located in Old Delhi. Her name is Jami Masjid. The year of construction is 1658th. It is made of red sandstone and white marble. It includes four towers, two minarets and three large gates..
New Delhi
There is a lot to see in New Delhi too. This is a well-maintained area, full of picturesque boulevards, with many historical monuments and attractions. Sightseeing tours in Delhi often include the following list of interesting places:
National Museum;
Mausoleum of Emperor Humayun;
Museum of Crafts and Folk Crafts of India;
House of Faith, or Lotus Temple with a magnificent park and 9 swimming pools;
Bhairon Temple;
Jantar-Mantar Observatory;
300-year-old stainless steel column at the Kuwvat-ul-Islam Mosque;
Raj Ghat Palace;
Indian Gate Memorial Arch.
In the National Museum, you will see rare exhibits and unique collections. These are unusual terracotta figurines, as well as a collection of jewelry and ancient weapons. Here you can see tribal masks and fragments of frescoes, perfectly preserved from ancient times. The central place in the exposition is devoted to the Buddhist collection, the main relic of which is the ashes of Buddha Gautama, stored in a golden sarcophagus.
The Indian Crafts and Folk Crafts Museum displays handicrafts. These are ceramics and textiles, wood crafts and household items. It employs artisans who are happy to demonstrate their own craftsmanship. They are engaged in their creativity right in the courtyard of the museum, using traditional technologies. These handicrafts can be purchased as a keepsake.
Photos of excursions in Delhi