Goa beaches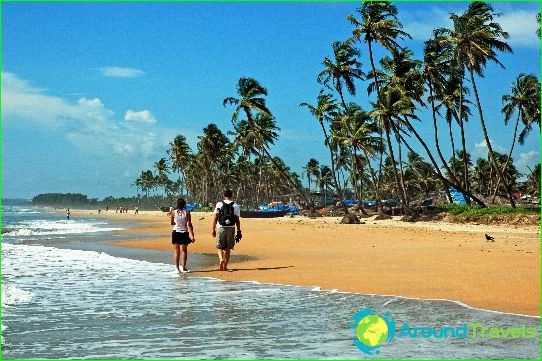 It is noteworthy that all the beaches of Goa are usually divided into at least two parts: northern and southern. In general, there are about 40 beaches in Goa, which can be classified depending on the expectations of the vacationer and the limitations of his personal budget. In any case, a vacation in Goa requires the following from vacationers:
decent capital;
readiness to perceive everything new and interesting;
the ability to soberly assess the boundaries of your budget;
knowledge of the peculiarities of local customs and culture of behavior.
Goa's beaches are considered a very prestigious summer destination, if only because the average worker can only afford something like this once every few years. Holidays in Sochi or Crimea will cost much less, but impressions, of course, will be completely different everywhere.
South beaches of Goa
It is generally believed that the beaches in this part of Goa will be much more expensive for vacationers than all the others, because local recreation is considered very prestigious. The best sandy beaches of Goa are located in the southern part of it. The most expensive beaches are «Candolim», «Morjim», «Cooking» and «Cavelossim».
«Cooking» and «Cavelossim» stretch for 10 km, and it is here that all the most fashionable hotels in Goa are located. The corner, which is formed by these two beaches, is considered almost the best in the entire territory of Goa..
Goa's northern beaches
The above «Morjim» also sometimes called «mini-Moscow», because it is here that a large number of Russian restaurants and cafes are located, and it is not difficult to meet Russian-speaking residents here. The menu of some restaurants is provided to visitors in the Russian-language version, and both dumplings and cabbage soup are served. Be that as it may, the prices for local services are very tangible.
Beach «Candolim» does not differ in the quality of service from its southern «opponents». This corner for relaxation is considered to be very respectable, therefore it is suitable for a family vacation, and for relaxation in splendid isolation..
Other famous beaches of Goa
Beach «Calangute» was once the capital of the hippies. Representatives of this subculture rested here, held festivals and simply enjoyed life. Now the beach is open to ordinary tourists, but the spirit of freedom is felt here the same as before. This beach will be found interesting by those vacationers who prefer to spend their evenings not reading books, but dancing and singing their favorite songs..
For those who also want to have fun, but do not have enough money, the beach is suitable. «Colva». Here vacationers will find a large number of very inexpensive restaurants and cafes where you can relax at least every evening..
The owner of any budget can find a place to his liking in Goa, but it is better to stock up on decent capital in advance..
Photos of the beaches of Goa