Goa markets and shops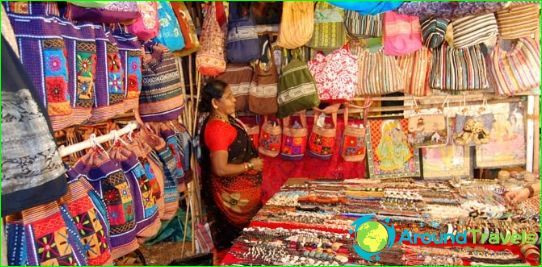 Goa is a small state on the southwest coast of India. It attracts tourists primarily with its pristine sandy beaches, exotic nature, monuments that reflect the mixing of European and Indian civilizations. Souvenirs made by local craftsmen reflect particles of a colorful ancient culture and bring a little closer to understanding the beauty and meaning of the surrounding world.
But before buying a work of a local artisan, you will have to bargain thoroughly. The lighter your skin is, the higher the original price will be broken..
Shopping in Goa is done everywhere. You can start even before leaving the hotel - many hotels have their own shops offering local souvenirs: carpets, figurines of elephants or deities made of precious woods, jewelry and bijouterie, the finest cashmere and cotton shawls with exquisite embroidery. The prices are very low, but still don't agree right away, bargain. Upon leaving your shelter, you will most likely also find rows with popular goods: bright summer clothes made from natural fabrics, beach accessories, cosmetics, etc..
Popular markets in Goa

Anjuan Beach Market. Works every Wednesday. Sellers come here from all over the country. Therefore, the assortment is not limited to the products of the state of Goa: thin woolen blankets, bright batik, carpets with intricate patterns, embroidered bedspreads and pillow covers, swimwear, hippie clothes, bags and much more. Local characters are very colorful: women in saris, Tibetans, trained monkeys, snake charmers and other artists performing outside the platforms, right among the people.
Market on Fridays in Mapuasa. It is less tourist-oriented, more for locals, and therefore cheaper than Anjuan. There are fewer souvenirs and suitable clothes here, but they also have a place to be. But all sorts of bedspreads, spices, sweets, local drinks are presented more widely. In the town itself there are many shops aimed at those who decided to stay in Goa longer and equip their life.
The Arpora Night Market is open during the tourist season, starting in December at nights from Saturday to Sunday. Conceived in the format of Anjuan, but at night to take a break from the heat.
Civilized shops are concentrated in the metropolitan Panji. There are boutiques of luxury brands and shopping centers in it. Prices are significantly lower than in Europe. But many doubt the authenticity of the goods. Nevertheless, the quality is decent, why not buy?
Pharmacies in Goa cannot be ignored. If it is impossible to understand local drugs, then cosmetics made from natural ingredients will not leave indifferent representatives of both sexes..
Sooner or later, the time comes to get ready for home and the issue of packing suitcases is actualized. The main secret is that initially you don't need to take anything extra from home - there should be enough cosmetics and clothes just to get to the place. Everything else you buy in Goa.
Photos of Goa markets