Holidays in India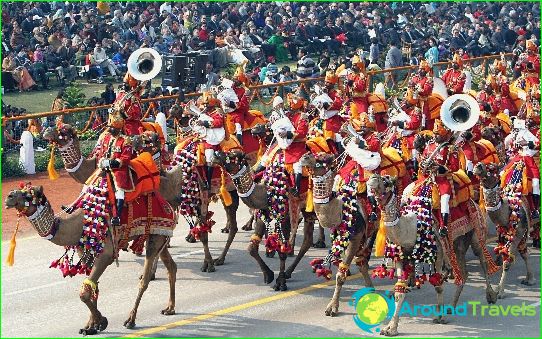 Holidays in India can be compared to a colorful kaleidoscope of bright events (state, religious, folk).
Holidays and festivals in India

Christmas (December 25): This holiday is celebrated by Indian Christians who decorate their homes not with traditional spruce, but with banana or mango trees, hanging small oil lamps on them. In honor of the holiday, the inhabitants of India congratulate each other, exchange gifts, distribute money to the poor, and solemn services are held in churches.
"Maha Shivaratri" (January-February): On the pre-holiday night, people go to temples or main squares to chant Lord Shiva with the help of sacred hymns. And the girls who have not yet married do not close their eyes on this night - they offer prayers to Shiva in the hope that he will send them good husbands. This holiday is held in high esteem by pilgrims - they conduct an interesting ceremony in the Tarakeshwar temple, located 57 km from Calcutta. There they pour water from the Ganges on a stone statue of Shiva (they bring it with them) and decorate the granite lingam with garlands of flowers..
Indian Independence Day: On August 15, a flag is raised in many cities and even villages in honor of the holiday, and local politicians are asked to give a speech that will remind everyone in the crowd of how difficult their country has been to become independent. In addition, state governors host festive receptions in honor of the holiday..
Diwali (October-November): In honor of the holiday of fire, symbolizing the victory of good over evil, thousands of lights light up on the streets of large cities and towns with the onset of evening. It is customary to light oil lamps on terraces, roofs, balconies of houses, on trees and in temples. In honor of the holiday, people light sparklers and fireworks into the sky.
Event tourism in India
You should definitely come to India during the Holi period (February-March). On this colorful and bright holiday, bonfires are kindled, events are organized, accompanied by dances and songs. On this day, it is customary to sprinkle passers-by with colored powder and pour over tinted water (take a water pistol with you). According to tradition, the more abundantly you are covered with paint, the more good wishes you will receive (when going to a holiday, put on clothes that you do not mind).
It will be interesting for pilgrims to visit the Kumbha Mela - a ritual whose main purpose is to bathe in the waters of the Ganges in order to purify their karma..
Since people of different faiths and cultures live in India, many holidays and festivals are celebrated in the country. This is for the best - every traveler who comes here at any time of the year will be able to plunge into the holiday atmosphere..
Photos