Railways of India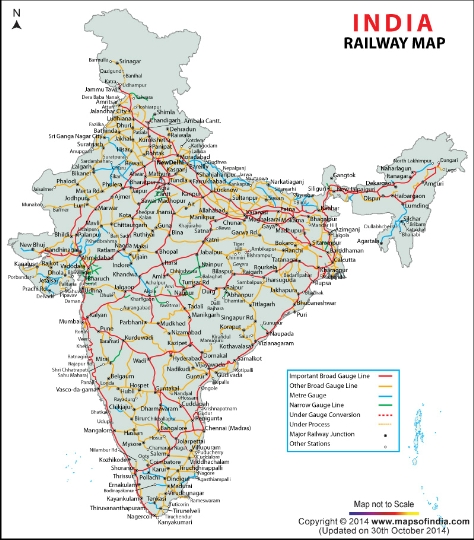 Indian railways are over 63 thousand kilometers long. According to this indicator, the country is in fourth place in the world. Almost all rail services are controlled by the state-owned Indian Railways. The business is run by the Indian Ministry of Railways. Many rail routes in the country are congested.
Condition of railways
Trains are the most accessible and popular way of travel for the population. The official website of Indian Railways indianrail.gov.in provides a train schedule. Each train has carriages of different classes, differing in the level of comfort. Indian Railways provide the bulk of freight and passenger traffic. High-speed trains running between major cities are equipped with air conditioning systems. Express trains, which are much cheaper, are considered less convenient..
Many Indian trains are characterized by unsanitary conditions. The furnishings are much better in top class cars. In the mountainous regions of the country, there are lines that were built during the period of British rule. The rolling stock there is in a deplorable state. In such places, the roads often have different track widths, which affects the speed of the trains. In the northern states of the country, rail accidents are frequent. The reason lies in poor management, overpopulation and poor quality of service. India is the world leader in the number of transport accidents in the railway sector.
Train fares
Indian trains are inexpensive, which makes them popular with locals and tourists alike. The cost of tickets is largely determined by the quality of service and the distance of the route. For example, a ticket for a first class carriage for a trip of 1000 km will cost approximately $ 54. Traveling in a shared car for the same distance will cost $ 2.5. There are computerized and ordinary ticket offices at the stations. In the first option, the passenger can book a ticket for a specific seat. To do this, he fills out a special document, which must then be printed out and taken with him. A couple of days before the flight, the ticket offices start selling Tatkal tickets, the cost of which is 20% higher than usual.
You can buy train tickets on the Internet by paying for them with electronic money or a bank card. Sites offering tickets for Indian trains: makemytrip.com, cleartrip.com, etc. The indonet.ru resource presents to users the train schedule. Information on tariffs can be found on the Indian Railways website.
Photos