Islands of india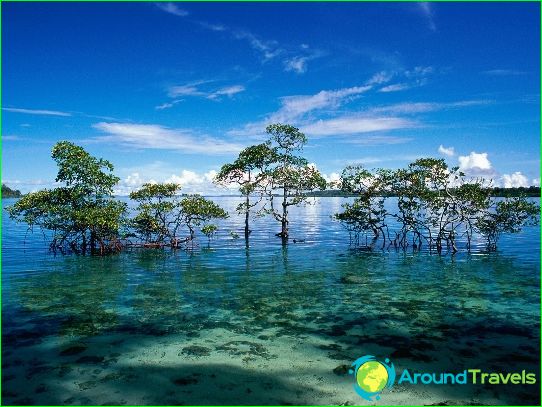 The Republic of India is located in South Asia. This is a huge state that owns many islands in the Indian Ocean. Almost all of India's large islands are self-governing territories. The coastline of the country stretches for 7517 km, about 2094 km of which belong to the Lakkadiv, Nicobar and Andaman Islands.
a brief description of
The largest archipelagos of India - the Nicobar and Andaman Islands are a single union territory. These are about 570 land areas that are located off the eastern coast of the country, in the Bay of Bengal. The Andaman Islands have approximately 550 island formations.
Only 38 islands have a population. They are also open to tourists. However, foreigners must apply for a special permit to visit the Indian Islands. Previously, the Andaman and Nicobar Islands were inhabited by tribes. The genetic and ethnic composition of these territories is considered unique. The natives used the Andaman languages ​​for communication, which cannot be attributed to any language family. The inhabitants of the Nicobar Islands spoke Nicobar languages. Each of the islands is a kingdom of the tropics. There are beaches with white sand, clear sea water, coral reefs, etc. 83 species of reptiles and more than 58 species of mammals have been found in tropical rainforests..
The popular islands of India are the Lakkadiv Islands. It is a group formed by coral land areas and constitutes the union territory of Lakshadweep. The Lakkadives are located in the Arabian Sea, south of the Maldives. Tourists are only allowed to visit the miniature island of Bangaram. You can also make a short visit to the uninhabited islands of Thinnakara, Parali-1 and Parali-2.
Other major Indian islands include Salsett, Majuli, Diu, Sriharikota and Elephanta. The most populated island in the country is Salsett, with an area of ​​438 sq. km. It partially contains the city of Mumbai.
Weather
The country's climate is largely influenced by the influence of the Thar Desert and the Himalayan mountains. Monsoons are common in India. But cold winds from Central Asia do not penetrate here, since the Himalayas serve as an obstacle to them. In India, the following main types of climate are distinguished: dry tropical, humid tropical, alpine and monsoon subtropical.
There are three seasons in the country:
cool and dry from November to February,
dry and very hot from March to May,
humid and hot with a predominance of monsoon from June to October.
The islands of India are located in a tropical climate zone. The maximum temperature is +31 degrees, and the minimum is +23 degrees. The period from May to October is more suitable for rest. The rainy season in the Andaman and Nicobar Islands is observed in November and December. Storms occur in August-September, causing extensive damage to coastal areas.
Photos