Tours to Kerala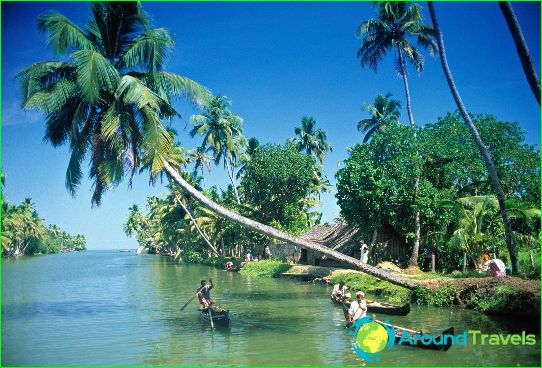 This state in the southwest of the Indian subcontinent is one of the most popular tourist destinations for those fleeing the frosty or slushy European winter and can afford a few months of relaxation on the beaches under the coconut trees. However, tours to Kerala are also bought by ordinary vacationers, who prefer to spend every free day in this life in contemplation of the ocean surf.
History with geography
Translated from the local dialect, the name of the state means "land of coconut trees". The territory of Kerala stretches between the waters of the Arabian Sea and the Western Ghats. The coastline is almost 600 kilometers long, while Kerala is very small in width. The state grows tea, coffee and, of course, coconuts.
Merchants sailed to the shores of Kerala in the early Middle Ages and loaded their ships with spices and spices. Few travelers and explored called these lands "the country of mountains", and the famous Marco Polo called them "the coast of pepper".
Briefly about the important

The climate in the state is very humid and tropical. The influence of the ocean is enormous, and seasonal monsoons coordinate the amount of precipitation here. The most frequent and heavy showers occur at the resort in June, July and mid-autumn. The air temperature is about +27 degrees throughout the year except for the spring months. In March-April, a strong heat hits the state and the thermometers freeze at around +35.
Kerala tour participants should remember that the Arabian Sea is not safe to swim everywhere. When choosing a place and time for the swim, it is important to pay attention to the signal flags of the rescue service. It is best to refrain from swimming in wild, unequipped and unfamiliar places with strong waves..
The most popular resort in the state is Varkala. He gained his fame thanks to the healing springs. Mineral springs gush from high cliffs and the water flows directly to the beaches.
Fans of outdoor activities should choose hotels in the Kovalam Bay area for tours to Kerala. It creates ideal conditions for surfers, divers and water skiers alike..
Marari beach is recommended for romantics looking for special privacy. There are not many people there yet, but the hotel here meets the highest requirements for comfort and equipment..
There are no direct flights to the resorts of the state from Moscow, and you can go on tours to Kerala with a connection in Dubai or Abu Dhabi.
Photos