Airport in Genoa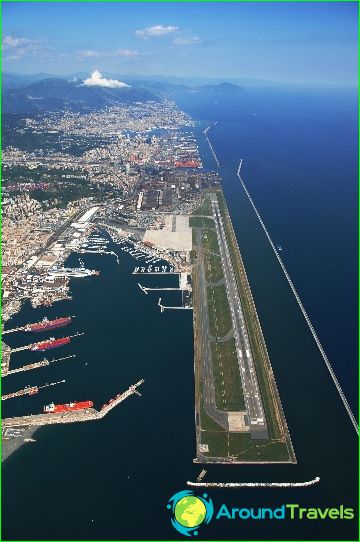 The international airport in Genoa named after the great traveler Christopher Columbus is located on an artificial peninsula 6 kilometers from the city center. High-quality service and location with easy accessibility for ground transport makes the airport competitive among tour operators and airlines in the world..
The airline is capable of accepting all types of aircraft without restrictions and serving more than 10 million passengers per year.
The airport successfully cooperates with 15 airlines in the world that provide air transportation to Barcelona, ​​Brussels, Catania, Cagliari, Istanbul and other cities in Europe and the Middle East. Flights from the airport in Genoa depart daily to almost 40 destinations around the world.
Service and services
Like many European airlines, Genoa airport provides all the conditions for the comfort and safety of passengers. Provides voice and visual information about the movement of vehicles, there are referral services where you can get comprehensive information in several languages, including Russian. The time for check-in and baggage check is reduced as much as possible.
There are waiting rooms in the arrival and departure areas of passengers. There is an Internet cafe on the territory of the airport, food points are organized - a cafe and a restaurant of Italian cuisine, there is a smoking room.
For passengers traveling in vip class, there is a deluxe lounge, where satellite TV, buffet meals and free internet are offered. Ordinary passengers can also purchase a ticket for using the services of the vip-lounge, the ticket price ranges from 10 to 25 euros.
Passengers with reduced mobility are provided with a meeting and escort, as well as special medical equipment and mobile devices for moving around the airport and boarding an aircraft.
Round-the-clock security of the airport is provided. There is a paid parking lot at the station square..
Travel
On the territory of the airport there is an apron of a railway line, from where an electric train leaves every 30 minutes, following to the central part of Genoa. An alternative to the electric train can be comfortable buses, the parking of which is located near the station square, or city taxis. Also, a car rental office has been organized on the territory of the airport..
Photos Genoa airport