Suburbs of Genoa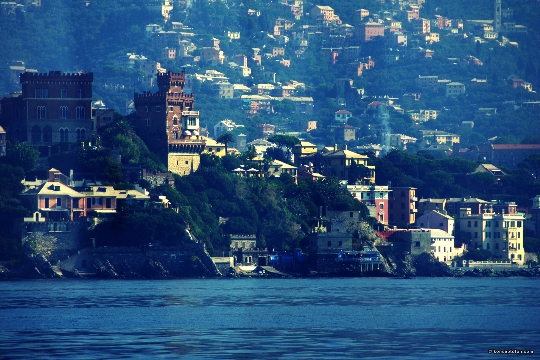 The center of Italy's Ligurian coastline, Genoa is one of the country's most popular tourist destinations. The cultural and architectural monuments concentrated in the region, taken under the protection of UNESCO, are of undoubted interest for the traveler interested in history. Beach lovers will undoubtedly be attracted by the local resorts, which are rightfully considered one of the best in Europe. Together with the suburbs, Genoa is a large urban agglomeration and has its own international airport.
In Pella for a walk
The western suburb of Genoa, the town of Pella, has long been loved by aristocrats - the first local villas appeared in the middle of the 19th century. Today, on the local promenade, you can meet movie stars and politicians, and two famous ancient Pella villas have turned into museums of European importance. The Museum of Archeology of the Liguria Region, housed in the Villa Durazzo Pallavicini, displays valuable exhibits from the Etruscan and Roman eras, and a collection of antique vases was donated to the museum by the Prince of Savoy.
The exposition of the Maritime Museum in Pella is no less popular. It is located within the walls of the Villa Centurione Doria, the construction of which began in the 16th century. Numerous exhibits, including models of medieval ships, tell about the history of the development of navigation. The role of Genoa in the development of new lands has always been enormous, if only because it was here that Christopher Columbus was born.
By Tsvetaevo places
This suburb of Genoa is famous for its magnificent parks, where city residents love to come for the weekend. The easiest way to get to Nervi is by train from the city station, and the travel time will be no more than 15 minutes.
A narrow road along the sea, laid over the cliffs, is a local promenade named after Anita Garibaldi, wife of the national hero of Italy. Picturesque cliffs and blue sea form a magnificent landscape for which photographers, artists and just romantics come to Nervi. But fans of Russian poetry are well aware that Marina Tsvetaeva spent the winter of 1902 in this suburb of Genoa.
In the old port
The Genoese have always been skilled navigators, and therefore even the local Aquarium is made in the form of a ship ready for launch. The scientific and exhibition complex opened in the suburbs of Genoa in 1992 and is located in the old city port. It was then that the world celebrated the five hundredth anniversary of the discovery of the New World by Christopher Columbus, and therefore the exposition of the museum-aquarium includes not only the inhabitants of the Ligurian Sea, but also the flora and fauna of the North Atlantic and the Caribbean.
Photos