Water parks in Naples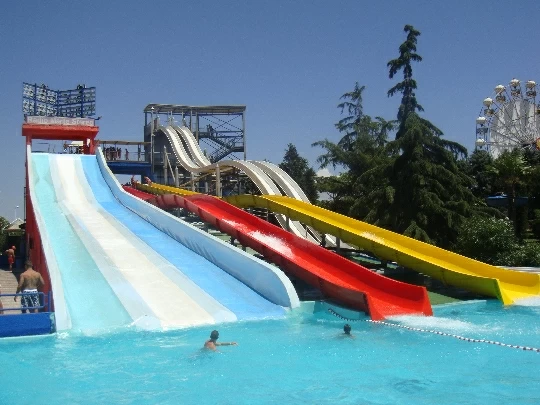 Vacationers in Naples will have a happy chance to visit the water park, located 20 minutes from the city center and popular with children and adults of all ages.
Aquapark in Naples
Waterpark "Magic World" has:
pools with artificial waves, jacuzzi, "lazy river";
the Teuco terrace (here visitors are invited to relax under umbrellas on sun loungers and soak in the hot tubs);
water slides, including "Anaconda" (the attraction is represented by 4 multi-colored water slides; their height is 12 m), "Kamikaze" (the height of 2 parallel slides is 20 m), "Big Hole" (the attraction is represented by a slide-tunnel with light effects), "Ranger", "Family Rafting" (you can raft with the whole family), as well as an exotic tropical lagoon;
special pools and slides, playgrounds for young children;
cinema in 5D format;
restaurant.
An adult ticket costs 12 euros, and a child ticket costs 8 euros..
It is worth noting that in "MagicWorld" guests are often entertained with the Malibu Diving Show - a performance during which diving from a height of 25 m is demonstrated (this show will surely leave you an indelible impression).
Water activities in Naples
Prefer to pamper yourself with a dip in the pool? On vacation, you can enjoy yourself with water procedures every day - you just need to book a room in a hotel with a swimming pool, for example, in "Pelican Bay" or "Best Western Naples".
Guests of Naples will probably be interested to know that Anton Dohrn Aquarium is open in the city: visiting it, they can see marine life in 23 aquariums, as well as visit an exhibition dedicated to marine fauna and flora..
Those interested in beach holidays can not only enjoy the peace and quiet on the beaches, but also surf, enjoying the waves of the Gulf of Naples, and even diving (the cost of 1 dive is 45 euros). It is also worth noting that all beaches are supervised by lifeguards..
Tourists are advised to go to the beaches of Bagno Elena (it has a wooden pier, changing rooms, bars, a sunbathing area and sun loungers), Lucrino (the beach is famous for its clear water; it is not crowded; conditions for a quiet pastime are created), Marina di Licola (thanks to strong waves, this beach enjoys popular with surfers).
As for private beaches, they have a developed infrastructure and you will have to pay 10-20 euros for the entrance + separately for an umbrella and sunbed.
If you would like to rent a small boat to take a boat trip around the bay of Naples, this entertainment will cost you 100 euros / 1 hour. Well, if you are not used to saving on vacation and are a wealthy tourist, you will be offered to rent a luxury yacht (a boat trip along the Gulf of Naples will cost at least 5,000 euros / day).
Photos