Water parks in Rimini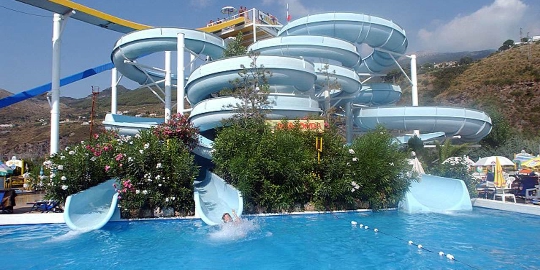 Parties, excursions, shopping trips, walks - this is a small part of the entertainment in Rimini. Do you want an emotional addition to your vacation? Visit local water parks!
Water parks in Rimini
In the water park "Aquafan" guests are expected:
hydromassage, jacuzzi pools and a pool with artificial ocean waves "Ocean in miniature";
water slides for adults (130-meter Twist pipes, attractions "Kamikaze" and "Fiume Rapido", extreme slide "Speedriul") and children;
children's area "Aquakid" with the "Elephant" pool, "Antarctic beach", "Elephant pool", "Cartoon beach";
an artificial beach where you can sunbathe on sun loungers, as well as play volleyball or basketball;
diving school;
bars, restaurants and picnic areas.
In addition, themed parties are organized here, in particular the Aquarius foam parties (dancing in the sea of ​​foam is akin to aqua aerobics).
Entrance fee (valid for 2 days): adults - 28 euros (people aged 65+ will be offered to buy a ticket for 23 euros), 6-11 year old children - 20 euros, deaf and dumb - 20 euros / adults, 16 euros / children.
Aquapark "Mirabilandia Beach" invites guests to slowly sail along the river "Rio Angel", experience the attractions "Salto del Caribe" (is a slide-tunnel), "Salto Tropical" (slide-tube), "Rio Diablo" (skiing from 170 to meter slide on a 2-seater inflatable boat), "Vuelta Vertigo" (ride from a 10-meter ramp on a 2-seater inflatable boat). In addition, there is an artificial beach, sun loungers with umbrellas, a restaurant, El Castillo castle with slides for children (little guests are involved in fun "battles") and water cannons.
A visit to the water park for adults will cost 20 euros, for children (below 140 cm) - 15 euros, and for children under 1 m and disabled people - free. If you decide to visit the Mirabilandia amusement park in addition to the water park, then an adult ticket will cost you 40 euros, and a child ticket - 30 euros. Important: having bought a ticket for the whole day, it will be valid for the second day.!
Water activities in Rimini
Vacationers in Rimini are advised to visit the dolphinarium (entrance fee: adults - 13 euros, children - 10 euros) to enjoy the dolphin show (during the performance, dolphins perform acrobatic acts, dance, play), as well as walk through the "Marine Gallery" - there, in aquariums, sea urchins, crabs, representatives of the Mediterranean and tropical seas live.
Beach lovers can relax on the beaches "Marina Centro" and "Lungomare Augusto", and those who are keen on diving can resort to the services of the diving center "Dive Planet" (dives of all difficulty levels are organized, including examinations of sunken aircraft and ships; diving in the vicinity of Rimini - the reserve of Monte San Bartolo, the underwater island of Rosa).
Photos