Self-guided travel in Rimini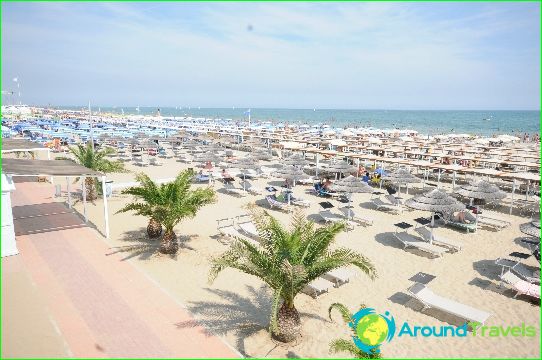 The famous Italian resort on the Adriatic Sea is one of the most popular holiday destinations for Europeans. Russian tourists love Rimini no less, and the reason for this is not only gorgeous beaches with rich infrastructure and historical sights, but also the opportunity to go on excursions to neighboring cities, looking at excellent shopping centers along the way.
When to go to Rimini?
The most beach time starts in Rimini in May. The air warms up to a pleasant +25, and the water - to +18 degrees. You can sunbathe and swim here until October, when the days get a little cool, but in the absence of wind, they are quite suitable for a leisurely "velvet" rest.
How to get to Rimini?
At the local airport, named after the famous native of Rimini Federico Fellini, a lot of both charters and regular flights from cities and Russia and the European Union land. Passengers get to the city by rail or by bus. The regularity of flights is once every half hour. The station in the city is also the point of departure for trains throughout Italy. This can be used to organize excursions around the country. To get around the city, it is worth buying a ticket book or a season ticket, which will make the use of public transport more profitable.
Housing issue
Hotels in Rimini in high season should be booked in advance. So you can be guaranteed to choose a hotel with a favorable price per room and a good location. The main difference between the local hotels is comfort and a high level of service even with a low "star rating".
Argue about tastes
The main attractions of Rimini in the culinary sense are real Parmesan and Parma ham. These products are made in this region, and therefore their real taste and aroma haunts any gourmet who finds himself in a Rimini restaurant. And in the region of Emilia-Romagna, to which Rimini belongs, they prepare the famous spaghetti bolognese and bolognese sausage. A great chance to have an inexpensive meal - go to a restaurant with set meals.
Informative and fun
In addition to the ancient architectural sights, which undoubtedly include the Arc de Triomphe in honor of Augustus, built 30 years before the new era, in Rimini there are many places associated with Federico Fellini. Famous native of the Italian spa town - Rimini's premier tourism brand.
Photos of the trip to Rimini