What to do in Rimini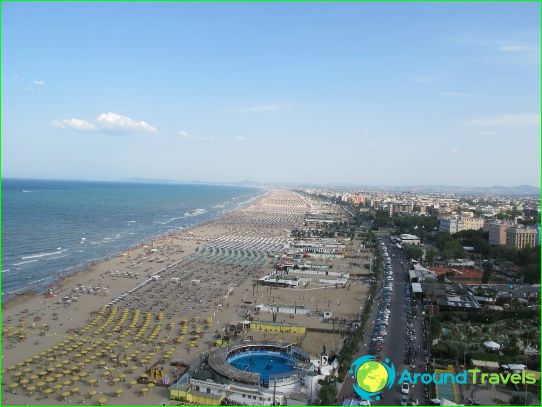 Rimini is a popular Adriatic resort, famous for sandy beaches, shopping centers, discos, masterpieces of architecture and painting.
What to do in Rimini?

Go to the park "Italy in miniature" (here you will see the sights of Italy and Europe in a reduced form);
Admire the mausoleum - the temple of Malatesta;
Walk through the Arch of Emperor Augustus;
Take a walk along the Tiberius Bridge;
Visit the House of the Surgeon and look at the antique instruments;
Relax on the beach of La Marina.
What to do in Rimini?
Rimini consists of two zones - the historical and the resort: the historical one will delight you with an abundance of temples and palaces, and the resort one - the Adriatic and sandy beaches.
Visiting the Museo della Citta, you can see a collection of antique frescoes, ceramics and works of art. Those interested in painting should go to the Gallery of Sacred Art, where they can see priceless artistic canvases dating back to the 16th century, old vases and collections of religious values..
For shopping it is worth going to the Rimini promenade - there are many shops here. Restaurants, shops and cafes can be found in the city center, walking along the streets of Corso Augusto, Garibaldi and Gambalunga.
If you come to Rimini in July, you will have the opportunity to take part in the celebration of the "Pink Night" - all the clubs in the city organize noisy entertainment programs (entrance for those who come to the clubs in pink clothes is free).
Children should be delighted with a visit to the Beach Village Water Park, Fiabilandia Amusement Park and Dolphinarium.
Jazz lovers can walk every evening to Rimini's promenade to Federico Fellini Park to listen to performances by jazz musicians.
If you get tired of passively relaxing on the beach of La Marina, then you can take part in beach volleyball or basketball competitions, as well as play beach tennis. Rimini is renowned for its excellent water sports facilities such as sailing, windsurfing and kitesurfing..
Nature lovers can take a picnic or simply explore the winding paths of the picturesque Marecchia Park.
You can have fun evenings and nights at discos and clubs in Rimini. At your service - Carnaby Club (a unique disco on three floors), Life Club (a disco with 2 halls), Blu-Up (a night club with oval bar counters and dance floors with beautiful lighting), Paradiso (a club with a beautiful environment, good music and delicious cocktails).
Holidays in Rimini will be appreciated by lovers of beach holidays, noisy parties, exciting excursions.
Photos of where to go in Rimini