The best restaurants in Rome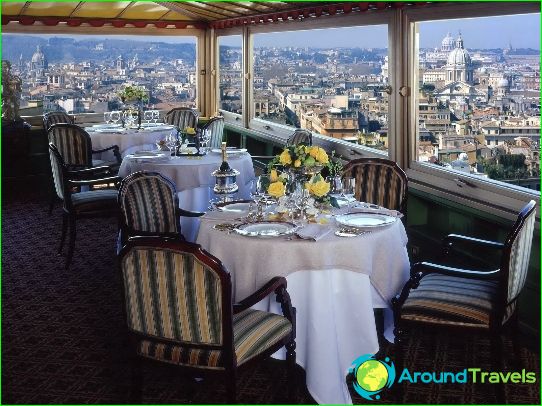 The regal capital of the world greets every tourist with impressive cityscapes, ancient monuments and modern shopping centers. The best restaurants in Rome are also ready to welcome dignitaries and casual travelers for great culinary discoveries..
The famous pizza or pasta with mushrooms, seafood or ravioli is not the whole Italian cuisine. While vacationing in Rome, the guest will come across surprisingly delicious Italian national dishes more than once. Moreover, each region of the country has its own culinary traditions and products..
Visiting a Roman German
An interesting fact is noted by visitors to one of the most titled restaurants in Rome - La Pergola. The chef of this establishment is Heinz Beck, from the name and surname it is clear where to look for its roots. However, this absolutely does not prevent him from completely immersing himself in the local cuisine, the ability to cook the most exquisite dishes according to Mediterranean recipes and surprise the native Italians. He is a recognized authority on the culinary arts and the recipient of the Gold Medal for Achievement in this area..
The restaurant itself is also unique - it has three Michelin stars, which confirms its leadership position not only in Rome or Italy, but also in Europe. Everything here is subordinated to a single goal - to amaze your guest, delight and make him come back here:
original entourage, luxurious decorations of the halls;
furniture worthy of crowned heads;
beautiful presentation of dishes, reminiscent of a theatrical performance.
No wonder in this popular place during the evening you can see princes, Hollywood stars, French or Italian filmmakers looking for inspiration or relaxation..
A restaurant in a museum or a museum in a restaurant
An amazing institution called Antica Pesa is located in one of the most colorful Roman quarters - Trastevere. For the first time, the restaurant opened its doors to visitors more than four hundred years ago, and even then the fame of skilled chefs went far beyond the capital..
Today, true to tradition, modern chefs working at Antica Pesa have won the respect and fame of ordinary visitors and celebrities, including Madonna and Robert de Niro. The chefs manage to preserve the spirit of history and at the same time actively use the latest achievements and novelties of culinary skills. The hamburger, which can be found on the menu, is a kind of a sign of attention to the guests from America, pork with a special sauce and the most delicate desserts with cheese will remind you of beautiful Italy..
Photos