Areas of Venice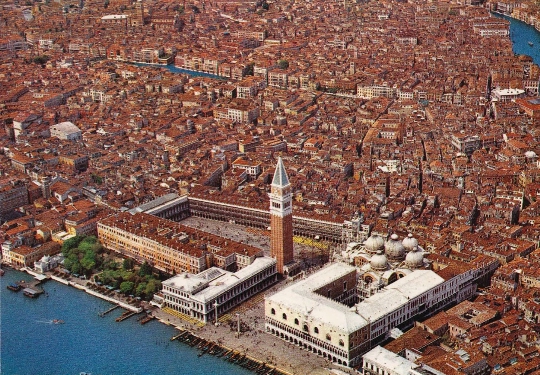 The districts of Venice are represented on the city map - there you will see six districts with their own characteristics and important points of interest.
Names and descriptions of historic districts

San Polo: It is recommended to visit the Church of San Rocco in this area. And those who want to find themselves on the right bank of the Grand Canal will need to cross the Rialto Bridge.
San Marco: its sights - Piazza San Marco, Cathedral of San Marco, Campanila, Doge's Palace (on the upper floors, where visitors are waiting for the Armory, the Grand Council Hall and other halls, you can climb the Golden Staircase), Palazzo Grassi and Dandolo. Advice: the square is always crowded, so if you want to see it without crowds of tourists, come here early in the morning, at 5 o'clock. The area includes the island of San Giorgio Maggiore - it is interesting for its cathedral, from the bell tower of which a panoramic view of Venice opens.
Santa Croce: despite the fact that this area is rarely visited by tourists, it is worthy of attention - here you should visit the palaces of Fondaco dei Turchi and Ca 'Pesaro (Museum of Oriental Art is open).
Cannaregio: for tourists, the area is notable for the Church of the Madonna dell'Orto and the Ghetto.
Castello: the east of the area is interesting for parks and squares (ideal for walking), and the west - for the Cathedral of San Giovanni e Paolo and the Church of San Zaccaria.
Dorsoduro: If you wish, you can get from here to the San Marco area by walking along the Accademia Bridge. The Dorsoduro area itself is attractive for walking through the Santa Margherita and San Barnaba squares, as well as visiting the Peggy Guggenheim Museum. In addition, the island of Giudecca belongs to Dorsoduro - there are three churches and small houses with red roofs..
Where to stay for tourists
Accommodation in Venetian hotels may well ruin travelers: in high season, a room in a 5-star hotel will cost at least 350 euros, in a 3-star (San Marco district) - 250 euros, and staying in a hotel located at a distance from the center, they will be asked to pay 100-200 euros for a room (hotel with 1-2 stars).
A good place to stay in Venice can be the Cannaregio area - this is a fairly quiet place where hotel accommodation is relatively inexpensive, and nearby there are restaurants famous for excellent cuisine. If you are not averse to settling in a hostel and saving on accommodation, it makes sense for you to look for this accommodation facility on the island of Giudecca (you can get there by vaporetto).
Every area of ​​Venice is good for tourists, but it is better to avoid staying in hotels located near the bus station on Piazzale Roma (rest can be overshadowed by a noisy environment).
Pictures of the districts of Venice