Holidays in Venice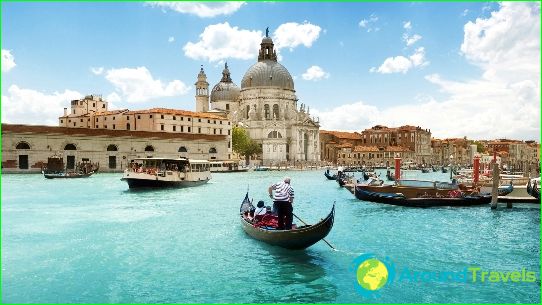 Holidays in Venice are an opportunity to go shopping of your dreams, ride gondolas along the canals, visit the Venice Carnival, relax on sandy beaches, admire Venetian architecture.
The main types of recreation in Venice

Excursion: excursion programs include walking around St. Mark's Square, visiting the Orologgio Tower, the Doge's Palace, Ca 'D'Oro Palace, the Buildings of the Old and New Procuration, the Rialto Bridges and Sighs, the Cathedral of Santa Maria della Salute, visiting the Church of San Fantin, Academy Galleries, Lace Museum.
Beachfront: vacationers should take a closer look at the sandy beaches of Lido (thanks to the installed breakwaters, the water here is calm and warm) - they are famous for their comfortable and gentle entrances to the water. Everywhere there are cafes, children's playgrounds, rental points (rent of umbrellas, sun loungers, equipment for water activities).
Entertaining: everyone can visit the Casino Municipale, have fun in the Harry's Bar nightclub, ride the canals on a rented motor boat, fly by seaplane.
Event-driven: timed a trip to Venice to the festive events, you will be able to visit the Witch Race Costume Regatta (January 6), the Bridges Up and Down Marathon (March-April), the Festadel Redentore (July), the Venice Carnival (February).
Prices for tours to Venice
Travel managers advise visiting Venice from late April to early October. When planning a trip to this romantic Italian city, it is worth keeping in mind that in the summer months the prices for tours to Venice jump up almost 2 times. The same applies to the period when the Venice Carnival takes place in the city. To save money, you can come here in November-February, but it is important to know that at this time the city is often "attacked" by wind and rain.
On a note!
On summer holidays, it is advisable to take light things, sunglasses and cream with you, and on winter holidays - warm, non-ventilated things. It is convenient to travel around the city on foot, and along the canals - on a small boat or gondola.
It should be borne in mind that many shops and government offices are closed during lunch hours..
If you want to feed pigeons while walking in Piazza San Marco, purchase special food for this purpose..
If the service charge in cafes and restaurants is not included in the bill, it is advisable for the waiter to leave a tip (5-10% of the total amount).
Venetian masks, carnival costumes, Buran laces, leather and Murano glass products, figurines in the form of a gondola with a gondolier, olive oil, cheese, wine can be used as memorable gifts from Venice..
Vacation photos in Venice