Venice observation decks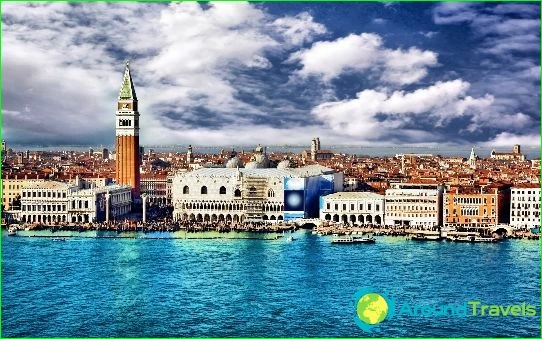 Tourists who climb the observation decks of Venice, from an unusual angle, admire Piazza San Marco, the Grand Canal, the Doge's Palace and other significant objects of this unique city.
Bell tower in Piazza San Marco
To get to one of the best observation platforms, which is located in the bell tower (its height is more than 98 m), you need to use the elevator service - from there, guests can admire the wonderful Venetian beauties. In addition, the red light of the lantern (on one of the facades of the bell tower) will notify of an impending flood..
Useful information: ticket price - 8 euros (for groups of 15 people and more discount tickets are sold at a price of 4 euros); in high season, you can visit the site until 21:00, at other times - until 16:00 (November-February) -19: 00 (March-April, October). Address: Piazza San Marco.
Bell tower of the Cathedral of San Giorgio Maggiore
The bell tower is presented in the form of a square brick tower and is equipped with an observation deck, from where, from a 75-meter height, you will see an impressive panorama of local beauties, in particular, San Marco and Lido. It is worth noting that in the cathedral you will be able to see "The Last Supper" and other canvases by Tintoretto. You can stay in the cathedral without purchasing a ticket, but in order to get to the site using the elevator, you will have to pay 5 euros. This attraction is open to the public from 09:30 to 18:30.
Address: Isola di S. Giorgio Maggiore (can be reached by vaporetto number 2).
Staircase Contarini del Bovolo
A spiral staircase with vertical arches, which is the decoration of the palace, is crowned with an observation dome - travelers who climb there will be able to enjoy beautiful and unusual city landscapes (a small fee is charged for climbing the stairs, which requires a lot of physical effort). In April-October, access is open until 18:00, and in other months - only on weekends until 16:00.
How to get there? From Piazza Campo San Bartolomeo, follow the yellow signs to Campo Manin, where a small panel will show you the way to the stairs. (Address: 4299 Conte dei Risi, San Marco).
Rialto bridge
The bridge is interesting for the available viewing platforms, which offer beautiful views of the Grand Canal and the palaces. Address: Sestiere San Polo.
Restaurant "De Pisis"
The institution pleases guests with Venetian cuisine, "seasoned" not only with Mediterranean spices, but also with notes of modern world culinary arts. There is a summer terrace from where you can admire the Venetian lagoon.
Address: San Marco 1459.
Helicopter ride over Venice
Choosing, for example, the Wide Horizon route, travelers will be able to admire Venice and the Lido during the flight (a 30-minute journey will cost 330 euros).
Photos