Venice beaches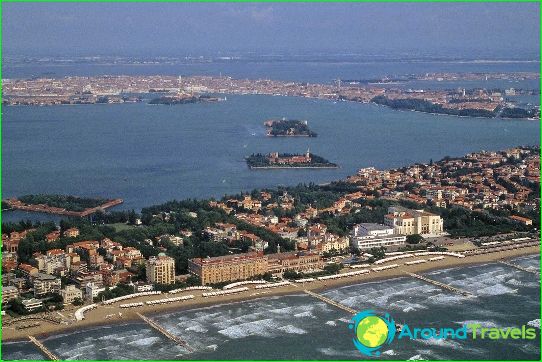 Rest in Italy is, first of all, sightseeing. After all, the history of the country dates back to the Roman Empire. But sometimes an entire city can become an attraction, for example - Venice.
On the one hand, it is difficult to imagine that a city on the water could do without a beach. It seems nonsense until you plunge into the whirlwind of Venetian everyday life and look at the busy streets of Venice. More precisely, not streets, but canals along which boats and gondolas scurry. Swimming in these canals is like taking a leisurely stroll along a busy freeway, now and then dodging fast-moving cars. And the abundance of water transport inevitably entails the appearance of oil and gasoline stains on the water surface of the canals..
It turns out that there is sun and warmth, water is in huge quantities, and there is nowhere to swim? This is not entirely true. Venice still has its own beach, moreover - the sea. Lido is the place along which the beaches of Venice stretch. It is a long, narrow scythe that was once used only to protect the Venetians from enemy attacks. And only the second half of the 19th century put everything in its place - Lido seemed to have been reborn, transformed into a very fashionable seaside resort. Celebrities of Europe rested there - Shelley, Byron, Goethe and Thomas Mann. The latter became famous, including the fact that he wrote here his famous novella "Death in Venice".
Despite the fact that the story was scandalous, after 45 years the director Luchino Visconti was already here, who decided to shoot the final scenes of the film of the same name in Lido. And today the beaches of Lido are still popular with both locals and tourists. There are all conditions here so that you can sunbathe under the warm gentle sun, splash in the waters of the Adriatic Sea, in order to "wash away" the fatigue from sightseeing walks in Venice. You can get to Lido in fifteen minutes by the most trivial transport for Venice - speedboat - vaporetto.
Now there are all conditions for vacationers. Lido beaches are the best sandy beaches in Venice. There are sun loungers and umbrellas, and the entrances to the water are very gentle and comfortable. The sea has a turquoise or azure hue, and this corner seems to be paradise. Everything leaves - gondolas, canals, sunbeams on houses, and only the sea and wonderful sand remain.
We also recommend visiting Lido for those who love cinema to watch one of the films participating in the Venice Film Festival. This can be done in late August or early September, when competitive screenings of films are held here..
Pictures of the beaches of Venice