Streets of Venice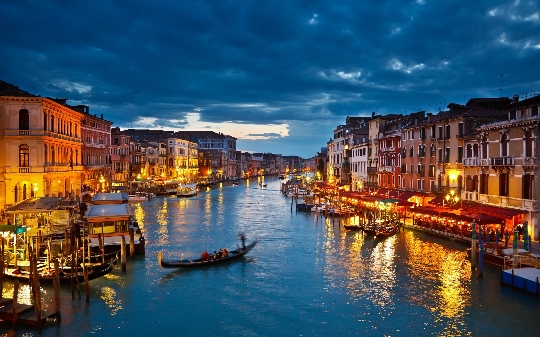 The streets of Venice are canals. This feature makes the city the most unusual in the world. Numerous architectural monuments are reflected in the water. The main street is the Grand Canal. It is the main transport artery of the city and stretches for 4 km. There are three bridges across this channel. The oldest and most attractive is the Rialto Bridge..
Venetian landmarks
Palaces dating back to different eras are located along the Grand Canal. They began to be built in the 12th century. The palace that attracts attention first is designated Ca' d'Oro. Its second designation is the Golden House. Its façade was completed in 1430 using gold leaf, marble and ultramarine. Giudecca is also considered one of the main channels..
The peculiarity of Venice lies in its location. It occupies 118 islands connected by bridges. There are six districts in the city: San Marco, Santa Croce, Dorsoduro, San Polo, Castello, Cannaregio. Every Venetian district has a fascinating history.
The city does not use cars, bicycles and other transport, except water. People move around Venice by water or on foot. There are houses that cannot be accessed from the sidewalk, as their doors lead directly to the canal. There are many old and beautiful buildings here. The central streets are always full of tourists.
Many buildings rest on piles that were erected many centuries ago. The best square in the city is considered to be San Marco, on which there is a winged lion on a column - a Venetian symbol, as well as the Doge's Palace, the Cathedral of San Marco, the bell tower and other structures. The San Marco district is the heart of the city, where the most important attractions are concentrated. The political center of Venice is Piazza San Marco.
In second place in terms of the number of museums is the Dosoduro district. The most northerly and densely populated area is Cannaregio. Its main highway is represented by the canal of the same name, which communicates with the lagoon and the Grand Canal. There are no vaporettos (motor ships) in the historic center. Exceptions are the Grand Canal and Cannaregio..
Features of the city
Venice has a unique toponymy. The names of squares, canals and streets are different from those used in other cities in Italy. The main streets with sidewalks are designated salizada, narrow and small streets along the canals are designated fondamenta. In Venice, there are streets named after representatives of certain professions: lawyers, blacksmiths, etc. Finding a specific house in Venice is very difficult. Each district has its own building numbering, which starts from the main object.
Photos of the streets of Venice