Suburbs of Venice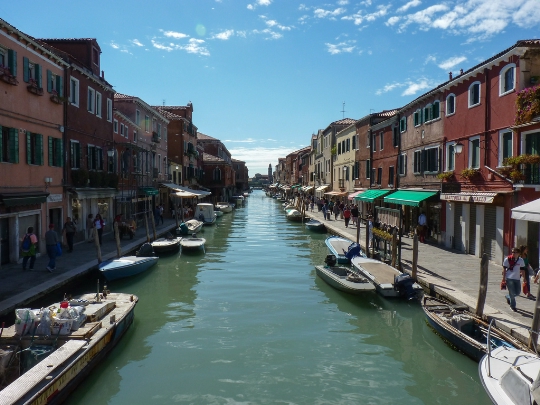 Magnificent and unforgettable, fantastic and inimitable, Italian Venice has long been a place of pilgrimage for millions of tourists who want to touch the amazing world of a medieval city, which has resisted the onslaught of great water for hundreds of years. On the local canals, gondolas operated by strong people still glide silently, and in the suburbs of Venice, as before, amazing folk crafts have been preserved, delighting visiting guests with the opportunity to take away unique souvenirs and gifts..
Fragile miracles
Murano Island is no less famous than Venice itself. Over the past seven centuries, glassblowing workshops have been located here, where non-worthy masterpieces have been made. Murano glass has become no less popular symbol of the city on the water than carnival masks.
Glass workshops were moved to this suburb of Venice at the end of the 13th century. So the city council decided to protect the mystery of fishing from the gaze of competitors. Glassblowers received various privileges, but lost the opportunity to leave the island.
To buy a Murani bracelet from the glassblower Signoretto is the dream of any tourist, and therefore the folk trail to this suburb of Venice does not overgrow, and vaporetto with the suffering, as before, plow the expanses of the Venetian lagoon.
All the colors of the rainbow
The houses on the island of Burano are painted in bright colors so that local fishermen, as legend says, will always see their way home. This suburb of Venice is also famous for its amazing lace. They began to weave in the 15th century, and today the highest quality and uniqueness of snow-white masterpieces is the reason for the popularity of this island among the tourist fraternity..
The lace makers themselves call their creations "holes in the air", but everyone who at least once had the good fortune to touch the Buran masterpieces understands that emptiness in this case has an extraordinary value.
Former glory of Torcello
This Venetian island was the most populous until the 11th century. He became rich on trade with Constantinople and already in the 10th century had more inhabitants than the city itself..
Sea trade ceased in the 12th century, the harbor was covered with silt, and most of the buildings were dismantled for the construction of palaces in Venice. Today, several dozen fishing families live on the island, but for tourists this suburb of Venice is interesting for its preserved architectural sights:
Museum exhibitions are located in two palazzo of the 14th century.
Cathedral of St. Mary Assunta was built in the 9th century. It is famous for its ensemble of Byzantine mosaics that adorn the vaults of the baptistery - the best in the region of northern Italy.
Photos