Children's camps in Italy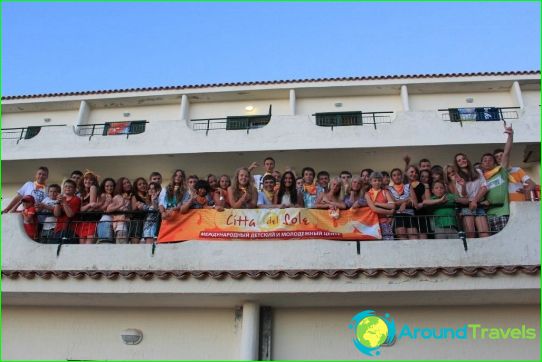 Sunny and bright Italy invites children from all over the world to rest. Parents send schoolchildren to children's camps in Italy during the holidays. If you want your child to learn Italian, buy him a summer camp tour. There he will not only speak Italian, but also spend time with benefit for himself. Any child will love to swim in the sea and visit interesting places that are written about in books. Learning Italian is very easy in a relaxed atmosphere.
Features of children's camps in Italy
In the camps, classes are organized in an interesting and unusual way, so children do not get tired, gaining new knowledge. Italian camps are located throughout the country. Choosing the best place for your child is not so difficult, as the sea and the sun are everywhere. It is impossible to make a mistake with the climate, the weather does not depend on the location of the children's center, but on the season.
Programs in camps in Italy are designed for children of different ages. They provide excursions to the most interesting sights. The child will have the opportunity to join the ancient culture of the country, visit Rome, Florence, Venice, Milan and other cities. The beauty of this country is breathtaking for adults. Children have an unforgettable experience of a lifetime.
Children's camps in Italy operate on the basis of a variety of programs. There are centers that focus on language learning. Others focus more on sports or artistic development. There are additional courses in the camps that allow children to learn how to draw or play musical instruments. Girls can get to know Italian food and fashion. There are soccer classes for boys, which are very popular..
Sicily is the best choice for a child
Children's camps located in Sicily offer very interesting programs. In terms of climatic conditions, Sicily is more suitable for children than any other place. In terms of the number of sunny days per year, it surpasses mainland Italy. The water temperature is never lower than 16 degrees even in winter. During the summer holidays, the guys bathe in very warm water - its temperature is +28 degrees.
The best seaside resorts in the country are located in Sicily. Many children's centers are adapted for Russian children. Experienced teachers constantly look after the children. While in the camp, the child will be able to enjoy the sea and get to know the amazing culture of Sicily. A striking example of such a center is "Citta del Sole" - "City of the Sun". Unique trainings in this camp are aimed at expanding horizons and developing leadership qualities.
Photos of children's camps in Italy