Holidays in Italy in August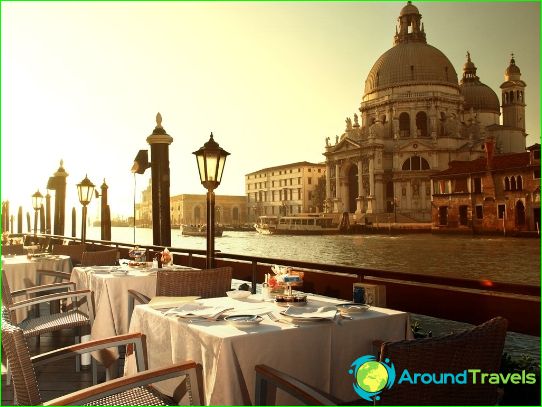 The height of the Italian summer greets tourists with hot, sunny weather. The closer to the south, the hotter - tourists who plan to take children or elderly parents with them should pay attention to this very moment. And you yourself should prepare for the heat and heat, stock up on protective equipment, appropriate clothing and hats.
A vacation in Italy in August is an acquaintance with old towns and participation in a variety of festive events, without which Italians cannot live, a beach pastime and delicious food.
Climate and weather in July
The peculiarity of the Italian climate is that hot August is accompanied by high humidity; it is better to put an umbrella in a suitcase. Rains and thunderstorms are not uncommon, but they pass instantly and give respite from the heat.
And the temperatures are really going through the roof, the thermometer is getting close to the mark that surprises even the experienced tourist, +37 ° C. In the north, it is less hot, but here +30 ° C is a frequent occurrence. The long-awaited coolness of + 24 ° C comes at night. Most tourists love the nightlife, when you can safely walk along the streets of old Italian towns and get acquainted with their amazing architecture.
Night of shooting stars
This beautiful phenomenon can be observed in Italy, on the night of August 10-11. According to legend, shooting stars are the tears of St. Lawrence from unbearable torture. The heavenly bodies wander in the sky forever and only on this holy night they descend to earth to perform a miracle.
Therefore, Italians spend this night on the street, under an endless sparkling sky, dreaming of seeing a shooting star in order to make a wish. Many tourists also take this opportunity and ask their star sorceress to make another trip to this amazing country..
August 15 - Assumption of the Virgin and Feast of Ferragosto
Two important events become the reason for the celebration, which, as it were, sums up the results of the summer field work, the end of the harvest. Cities during Ferragosto are dying out, leaving tourists alone. The townspeople rush to the seaside or to the mountains. Young people love beach night gatherings, accompanied by bonfires, fireworks and fireworks.
Venice Film Festival
This important event has been held here since 1932 and annually attracts tens of thousands of film fans. The Venetian Lion, the main award of the holiday, is the dream of many filmmakers around the world.
Tourists are attracted by the opening and closing ceremonies of the festival, where only the nimble and wealthy can get there. The rest have the opportunity to get to the screenings of the films participating in the competition program, and watch the defile of the world film industry stars marching on the red carpet.
Photos of holidays in Italy