Season in Jamaica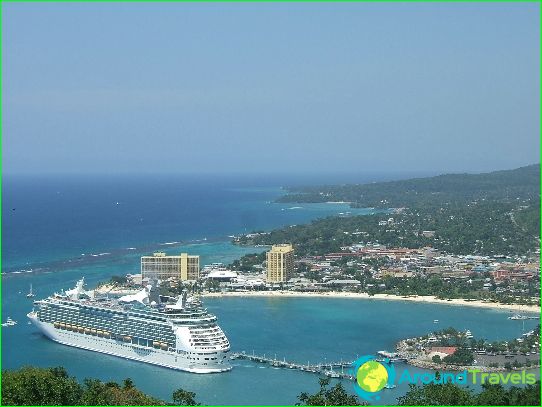 The holiday season in Jamaica lasts all year round (average annual temperatures range from + 25-36 degrees, and the water is never colder than + 24 degrees), but for those who do not tolerate the heat it is advisable to come here in winter (the ideal period to visit the island is November- April: at this time there is no sweltering heat, and the sea is warm and calm).
It rains in Jamaica from April to June: they start suddenly and end quickly, so in general they will not interfere with rest and will bring saving freshness and coolness. At the same time, the elements can rage - you should be prepared for hurricanes.
Tourist season in Jamaica

Spring: Until the end of April, the weather on the island is rather dry (there is the least amount of rainfall), so this time is ideal for excursions to the most beautiful places of the island (for example, you should definitely visit the Blue Mountains, famous for their wonderful waterfalls). And May is characterized by intense precipitation with hurricanes..
Summer: summer is characterized by changeable weather, although even in the shade the thermometer shows + 30-32 degrees (due to heavy rains and possible hurricanes, prices for summer tours are reduced).
Autumn: in the fall, it is worth planning walks to historical sights, cultural sites and other interesting places (the air warms up to + 23-32 degrees).
Winter: during the day the air can warm up to +30 degrees, and at night it can not drop below +22 degrees. Thanks to the cool weather, almost all types of recreation are available on the island..
Beach season in Jamaica
Rest on Jamaican beaches is available almost at any time of the year, but a favorable period for this type of rest is November-April.
The beaches of Montego Bay (Dr. Cave, Mosquito Cove, Cornwall) will delight you with calm sea and the opportunity to ride a boat with a glass bottom. In addition, on one of the local beaches (Doctor Cave) you can take a dip in the pool, which is filled with mineral water..
Negril will greet you with wide white-sandy beaches - here you can do water sports, actively relax on tennis courts, play beach volleyball, go diving.
And on the sandy beaches of St. Elizabeth, you can not only sunbathe, but also play golf, take yacht trips, dive or fish.
Diving
The ideal period for diving is from November to May (other months may be hampered by possible hurricanes and typhoons).
The ideal place for diving and photo hunting is Negril and the surrounding area (at your service - underwater caves, crevices and other secret corners where sea inhabitants hide). This area is famous "Throne room" - in this cave you will come across yellow sponges. And you can meet a lot of sharks by diving at Sharks Reef.
Holidays in Jamaica are intended for fans of beach, cultural, outdoor activities (holding reggae music festivals, organizing expeditions to beautiful places on horseback, climbing the Blue Mountains, exploring underground lakes, visiting sugar plantations and distilleries).
Photos